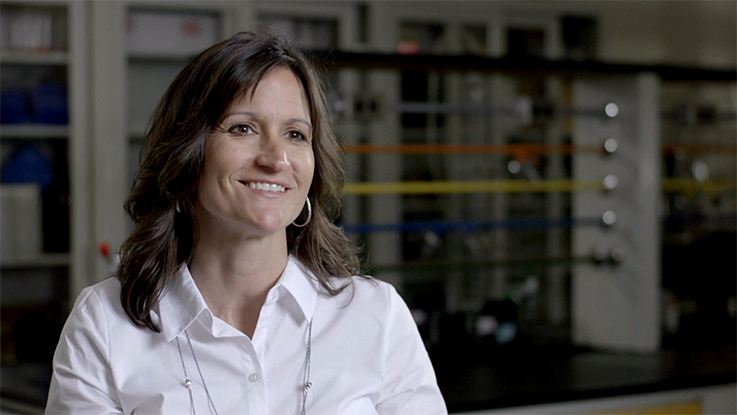 Tracey Cekada, Associate Professor, Department of Safety Sciences, was selected for the 2016 Dr. William E. Tarrants Outstanding Safety Educator Award, given annually by the American Society of Safety Engineers (ASSE).
Watch a video interview of Cekada as she talks about what winning this award means to her.

The national award "recognizes exceptional educators who show the highest level of achievement in (safety, health and environmental education) teaching, scholarship, and professional service, as part of ASSE."
Cekada is the second IUP faculty member to win the award. Lon Ferguson, chair of the department, was the first recipient of the award in 2002.
Cekada will receive the award at the annual ASSE Professional Development Conference in Atlanta on June 28. This national conference is attended by more than 4,000 safety professionals.
"I was surprised," she said. "I'm definitely honored and humbled by the award, especially considering the number of professionals and leaders in the field."
Cekada was nominated for the award by IUP Safety Science faculty member Chris Janicak.
"Over the years, I believe Dr. Cekada has best exemplified the importance faculty members have in creating a bridge for students that links their academic experiences with their future profession," Janicak said. "In addition to being an excellent and well-respected professor, she has tirelessly worked to provide students opportunities to be engaged with the profession through all of her ASSE student activities at both the local and national levels."
Cekada spent several years working in the safety science field before becoming an educator. She said teaching was something she always thought about, and her experiences in the field prepared her for classroom.
"I always knew I wanted to get into teaching," she said. "I had a passion for working with others and for passing the passion to learn on to the students. I had some good experiences, and I knew I could offer to them to those experiences. I knew I wanted to open doors to opportunities."
Although she feels honored by the award, Cekada said she believes the whole department deserves recognition for the work that they do.