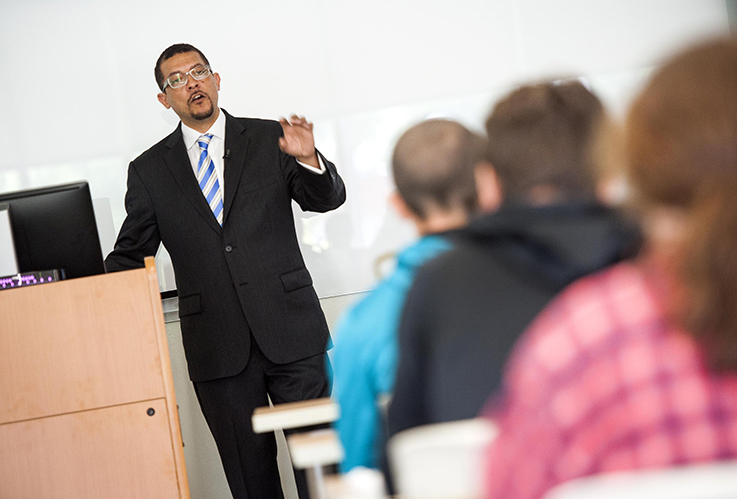 Thirty-eight students and 13 teachers completed a week-long Cybersecurity Camp (GenCyber Camp) at IUP. The camp, part of a national initiative supported by the National Security Agency and the National Science Foundation, was directed by Waleed Farag, Department of Computer Science, and Dighton (Mac) Fiddner, Department of Political Science, and was funded by a grant of $50,000 from the National Security Agency. IUP is the only university in Pennsylvania to receive the grant.
On June 15, special guest speaker Isaac Porche (pictured above), associate director for the Forces and Logistics Program in the Army Research Division of the RAND Corporation, presented "The Threat from Inside…Your Automobile" to the participants.
Porche is a senior engineer at the RAND Corporation. His areas of expertise include cybersecurity and computer network defense. He has led research projects for the U.S. Navy, U.S. Army, the Department of Homeland Security, the Joint Staff, and the Office of the Secretary of Defense. He is a member of the U.S. Army Science Board.
He has published numerous journal articles, op-eds and presentations on networking, cybersecurity and big data.
Prior to joining RAND in 1998, he was a software developer in the automotive industry. Porche received his M.S. in electrical engineering and computer science from the University of California, Berkeley, and his Ph.D. in electrical engineering from the University of Michigan.
RAND Corporation is a nonprofit, global research organization that developed solutions to public policy changes to help make communities throughout the world safer and more secure. It was organized in May 1948.
On June 14 and 15, members of the GenCyber site evaluation team visited the camp. The team included IUP alumnae Danielle R. Crisp, a 1990 journalism and public relations graduate, who serves as a higher education outreach advocate for the Office of Academic Outreach.
IUP presenters for the camp, in addition to Faraq and Fiddner, included Crystal Machado, Department of Professional Studies in Education; Pankaj and James Rodger, Department of Information Systems and Decision Sciences; Dennis Giever and Jennifer Gossett, Department of Criminology; David Smith, Department of Computer Science; and Teresa McDevitt, IUP Libraries. Programming was a mixture of presentations and hands-on events, including a decision-making simulation and a competition as the finale for the week's programming.
"The camp has two main goals for students," Farag said. "First, to increase interest in cybersecurity careers and diversity in the cybersecurity workforce of the nation; second, to help students understand correct and safe on-line behavior, including learning hacking defense techniques."
"For teachers, the program is designed to help improve teaching methods for delivering cybersecurity content for kindergarten through grade 12," Farag said. The program for teachers presented multidisciplinary cybersecurity teaching skills and modules to be used in the classroom.
According to national experts, jobs in cybersecurity have grown 91 percent nationally, and the demand for cybersecurity workers is expected to rise to 6 million globally.
A 2014 Ponemon Institute study ranks Indiana University of Pennsylvania's Computer Science Department among the top 25 percent of 183 American schools for cybersecurity education. The Ponemon Institute conducts independent research on digital privacy and security.
This ranking reflects IUP history of recognition for excellence in the field of cybersecurity and information assurance.
IUP is a National Cyber Security Alliance "Champion," recognized by the National Cyber Security Alliance. IUP was recognized in a 2014 national survey of "Best Schools for Cybersecurity" by HP Enterprise Security, released in October 2015. The university was ranked in the top 25 percent of all cybersecurity programs in the nation. Only four Pennsylvania colleges and universities were rated in the top quartile.
The university is a recent recipient of a grant from the National Science Foundation to support women and minorities in cybersecurity. It has received several NSF grants related to this discipline.
IUP was first selected as a National Center for Academic Excellence in Information Assurance by the National Security Agency and the Department of Homeland Security in 2002, a recognition that the university continues to hold. IUP is one of only six institutions in Pennsylvania and one of just 102 universities in the nation selected for this recognition. In 2015, the NSA has re-designated IUP as a Center of Academic Excellence in Cyber Defense (CAE-CD) through 2021. Farag, Smith, Deane Snavely, Dean of the College of Natural Sciences and Mathematics,and Timothy Moerland, Provost, received the re-designation certificate earlier this month during the National Cyber Summit held in Huntsville, Alabama.

IUP's program is unique because of its interdisciplinary character, blending the disciplines of criminology and computer science. In addition to the development of computer programs and systems for cybersecurity, IUP's program focuses on cybercrime detection, loss prevention, and how to collect the evidence to prosecute cybersecurity offenders.