Groundbreaking for North Dining, the final phase of Indiana University of Pennsylvania's Dining Innovations project, is planned for May 5, 2016, at 11:30 a.m.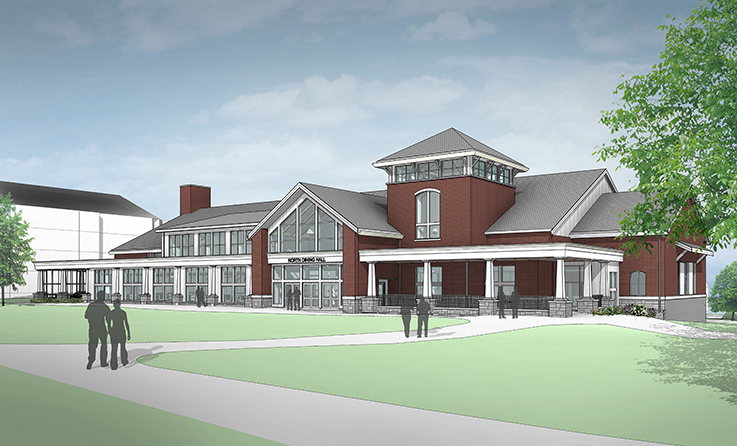 Due to inclement weather forecast for the day, the event will take place in the Blue Room in Sutton Hall.
The North Dining Commons is scheduled for opening in fall 2017. It will be located adjacent to Wallwork Hall in the footprint of what is now Keith Hall. It will have 500 seats and an "all you care to eat" format. It also will house the main bakery and the central commissary for the campus dining program.
The single-story structure also will include an enclosed porch for dining and a fireplace area. Its main stations are "Global Fusion," featuring sushi; a tandoori oven for Indian cooking; an expanded salad bar and vegetarian station; an open pit grill; and an expanded dessert section with homemade ice cream.
Dining revenues fund the renovation and construction of the three facilities that are part of the Dining Innovations Plan.
The IUP Council of Trustees approved the $37-million campus dining master plan in December 2011. The development of that plan by Desmone & Associates Architects, of Pittsburgh, and Envision Strategies, based in Colorado, was approved in 2010 and included extensive study, focus groups and surveys of students.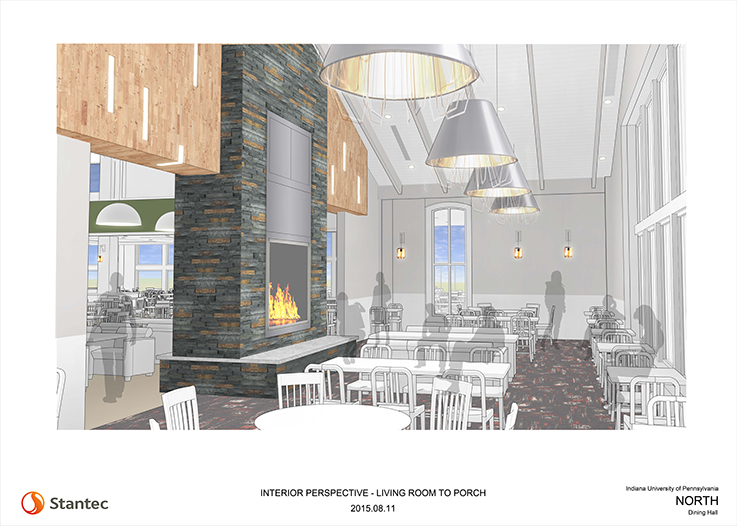 Some of the findings used to develop the campus dining master plan were as follows:
An estimated 15 percent growth in campus meal plan participation to 7,000 students
A need for new venues for students, with greater menu variety and an "all you care to eat" format
A need for facilities more convenient from all areas of campus
High demand for facilities with more intimate dining settings.

The architects and planners determined that Foster Dining Hall, located at Grant and 11th streets and built in 1966, required renovations so extensive that it would not be cost effective to continue operations there. The use of the land occupied by Foster has not yet been determined.
Keith Hall demolition will begin in May. The classrooms and offices in Keith Hall have been replaced by the new humanities building.
While the Keith Hall demolition project is underway, McCarthy Hall, located next to University Towers along Oakland Avenue, also will be razed. The building, formerly used for student housing, has been closed for the past three years. Its demolition is part of the long-range campus housing plan and long-range campus facilities master plan, approved by the Council of Trustees in December 2010.
Phase II of Dining Innovations was the renovation of Folger Dining Hall. This $13.75-million project was begun in May 2014 and completed in October 2015. Folger Dining Hall is located on Pratt Drive, across from the Suites on Maple East.
Folger Dining Hall offers specialized services and menus that match student lifestyles. It includes the Global Grill, which combines Mongolian, char, and flattop grills preparing international dishes and traditional favorites; the Sandwich Artisan; Olive's Kitchen with traditional favorites, vegetarian dishes, and features for those with special dietary needs; Pasta la Vista, featuring pizzas and pasta; Produce Market (salad bar); and Great Wraps, located in the lobby of the building.
Folger Dining Hall is also focused on being environmentally friendly. The floors are made from 97 percent natural raw materials, 72 percent of which are renewable and will grow back within 10 years. It is made with 43 percent recycled content. The chairs—a total of 239 of them—are made from 26,529 recycled plastic soda bottles.
The 120 table bases are 99 percent consumer waste, fabricated from recycled cast iron automobile engine parts. At the end of their life, they are 100 percent recyclable. The wood table tops are Forest Stewardship Council Certified, coming from responsibly managed forests evaluated to meet the council's strict environmental and social standards.
The ash and elm planks on the wall are sourced from agricultural structures and are 100 percent post-consumer recycled. The resin panels are 40 percent pre-consumer recycled content.
Folger is IUP's first dining facility to use LED fixtures throughout the facility. The average energy reduction from fluorescent to LED is 35 percent. Occupancy sensors are used to dim the LEDs when required light levels are met with natural light. High-efficiency plumbing fixtures also are used in the building.
The building's mechanical systems also are designed as energy efficient. For example, exhaust hoods in the kitchen and server areas run at full capacity during high-use times; after prime dining hours, they run at low capacity. There is demand controlled ventilation in the high-density areas of the building, which means that after hours, air conditioning slows down to save energy. Air conditioning and heating are reset based on outdoor air temperature as well.
Phase one of the project, the Crimson Café, is located on Eleventh Street across from Sprowls Hall and adjacent to the IUP Performing Arts Center. Opened in August 2014, this $6.5-million, 400-seat retail dining facility includes a Starbucks, the Crimson Bistro, Burger Studio, and the Fireplace, plus a selection of grab-and-go items, including soup, salads, wraps, and hot meals.