Two area women studying at Indiana University of Pennsylvania have been selected for the 2014 Foundation for Indiana University of Pennsylvania Community Volunteer Service Award.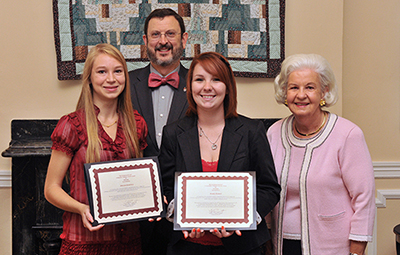 The Recipients of this year's award are Shannon Kovalchick, Freeport Road, Butler, and Brandy Rummel, Willow Road, Shelocta.

The award recognizes both student volunteerism at IUP and the volunteer commitment of the Foundation for IUP board of directors. It was established in June 1998 in celebration of the 30th anniversary of the Foundation for IUP. To be eligible for the award, students must be engaged in volunteer community service that exceeds any requirement for a class project, organizational membership, scholarship, or other obligatory circumstance.

Kovalchick, a psychology-sociology major in IUP's Robert E. Cook Honors College, is a 2012 graduate of Butler Senior High School. A student in the Honors Program in Psychology, she is a dean's list student and a provost scholar.

Kovalchick is a member of the Cook Honors College's Honors Connection service group and Tossed and Turned charity theater group, Phi Eta Sigma honor society, and the IUP Residence Hall Council. She is a research assistant in psychology and a Rape, Abuse, and Incest National Network student activist, and she worked on the IUP Sex Education Week planning committee. In the community, she is a volunteer at the Alice Paul House shelter for domestic violence survivors.

Brandy Rummel, a child development and family relations major, is the daughter of Kathy and Glenn Rummel Jr. She is a 2010 graduate of Indiana Area Senior High School.

Rummel volunteers with the Indiana County Department of Human Services and has been involved in the Suicide Task Force Walk for a Wonderful Life project, Indiana County Day of Play, the Indiana County points of dispensing system flu shot distribution, a school supply drive, the Special Populations Information Registry, Family Fun Fest, and Pennsylvania One Book.