Gamma Sigma Sigma national service sorority at IUP is hosting a Zumbathon, "Dance for the Troops," to raise funds for the United Service Organization (USO).

The Zumbathon will be held from 11:00 a.m. to 5:00 p.m. October 19, 2014 at IUP's Zink Gymnasium.

The USO helps wounded soldiers, provides entertainment to soldiers stationed overseas, and helps support military families. It is a private, nonprofit organization, with more than 160 locations worldwide.

The event is open to the community, and no Zumba experience is required. Admission is $3 per person and allows access to the event throughout the day.

Servicemen and women will be at the event answering questions about the military and about their personal experiences in the military.

Sponsors for the event include the IUP Department of Hospitality Management, Sheetz, and the Pittsburgh Pirates.

Members of Gamma Sigma Sigma from throughout the region also are expected to take part in this event.

Tickets are available in advance or at the door; groups of 10 can purchase a group ticket for $25.

To reserve tickets in advance, persons may contact gammasigbetapsi@gmail.com or call (856) 834-4869.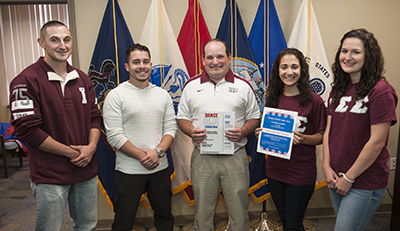 Photo information: from left, Jason Nepta and Michael Oquendo, student workers from IUP's Military Resource Center; Cory Shay, director of IUP's Military Resource Center; Stephanie Lukas and AnnJanett Prechtl from Gamma Sigma Sigma.