Dr. John Gilly, senior vice president for Leidos Biomedical Research Inc. and program director for the Vaccine Clinical Materials Program at the Frederick National Laboratory for Cancer Research, will present a program titled "Responding to the Ebola Outbreak - Development of a New Ebolavirus Vaccine" at Indiana University of Pennsylvania at 2:00 p.m. October 23, 2014 in 247 Johnson Hall on the IUP campus.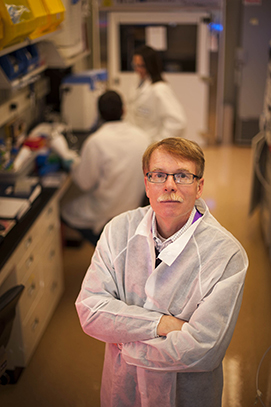 This program is free and open to the community.

Gilly, a 1979 graduate of IUP and a 2013 Distinguished Alumni Award recipient, has spent his career working to improve the health of children and adults. He is a native of Stroudsburg and currently lives in Littlestown.

He is responsible for operating a program and laboratories for vaccine and infectious disease therapeutic development for the Vaccine Research Center of the NIH.

His expertise is in adult and pediatric vaccine development and targeted biopharmaceutical drug development, specifically targeting HIV, EGFr and other growth factor receptors.

He came to the National Lab from Premier Research Group, a contract research organization conducting clinical research in oncology, CNS, and analgesics.

His last position was COO of global operations in 13 countries and also responsible individual for the NICHD contract for Best Pharmaceuticals for Children's Act Coordinating Center.

He also held executive and management positions with BioReliance Corporation, ImClone Systems Inc. (subsidiary of Eli Lilly), and Connaught Laboratories (now sanofi-pasteur).

He is also adjunct associate professor of Pharmaceutical Business at the University of the Sciences in Philadelphia and sits on academic advisory boards at IUP and Mount St. Mary's University. He received his Ph.D. in molecular biology from Lehigh University and his master of science degree in biochemistry from the University of Scranton.

He has received the NCI Center for Cancer Research Technology Transfer award three times: in 2011, 2012 and 2014.

At IUP, Gilly established the Young Life Scientist Opportunity Fund, designed to expand students' educational experience at professional meetings in which they present papers or participate in poster sessions derived from their research. He is also a member of the Advisory Board in the IUP College of Natural Sciences and Mathematics.