The Kovalchick Convention and Athletic Complex, a Global Spectrum-managed facility located on the campus of Indiana University of Pennsylvania, was ranked number three in the 2013 Mid-Atlantic Top Stops for venues with a capacity of 2,001–5,000 by Venues Today magazine.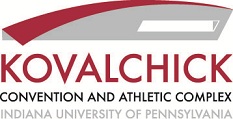 Global Spectrum's general manager for the KCAC, Seth Benalt, said, "The accomplishment to remain one of the top spot venues is a true testament to the commitment Global Spectrum has provided and will continue to offer in providing high-quality entertainment to the Indiana community."

Since its opening just three short years ago, 414,051 people have attended 1,086 events at the KCAC ranging from conferences to meetings, special engagements, and a variety of entertainment with internationally acclaimed performances and world-famous productions.

In addition to the 5,000-seat Ed Fry Arena, the complex boasts over 23,000 square feet of meeting and convention space in addition to the 659-seat Toretti Auditorium. The Kovalchick Complex also serves as the home to IUP's Crimson Hawks men's and women's Division II basketball and women's volleyball.

"We are thrilled about the recent ranking and the consistency of maintaining at the top since the opening of the building," IUP Assistant Vice President for Administration Sam Phillips said. "The complex continues to provide a variety of first-rate quality entertainment for both the university and the community. We look forward to continuing our upward stride with Global Spectrum to maintain our standing as a premier entertainment destination."

In partnership with the IUP Administration and Finance Operations team, Global Spectrum is consistently moving forward in bringing new and exciting events to the Kovalchick Complex. The residents of Indiana and surrounding communities will continue to see up-and-coming stars and first-ever events make a stop at the Kovalchick Complex.

The Kovalchick Complex is currently gearing up for a busy fall with first-ever events, including Army vs Marines MMA Live Extreme Cage Fighting on October 4, and the Emmy-nominated Discovery TV series Mythbusters on December 4. As recently announced, comedian Ron White will return to Indiana, Pa., to perform live on November 13. The fall season will officially kick off on August 15 with the return of TNA Impact Wrestling, starring current 2014 World Champion Eric Young.

For more information on upcoming events at the KCAC and to purchase tickets online, visit the KCAC website. To receive exclusive discounts, special offers, and announcements on upcoming events, become a member of the Cyber Club for free. Like us on Facebook, and follow us on Twitter and Youtube to learn more about upcoming events.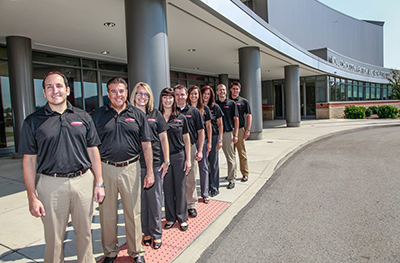 Kovalchick Complex Management Team. (Left to right) Seth Benalt, general manager; Sam Phillips, IUP assistant VP for Administration; Christine Knapik, Conference Sales manager; Amie Lee, director of Marketing and Group Sales; Gregg Kalemba, director of Finance; Breanne Miller, Box Office assistant manager; Mary Ann Lambrinos, director of Corporate Sales; Josh Kropf, Operations manager; Bob Smith, Event manager)