Last week, IUP, in cooperation with the Mid-Atlantic Research and Training Institute (MARTI) and the Center for Applied Psychology, hosted the Inaugural REACH Conference.

"The conference was an amazing experience," said Christian Vaccaro, who played a big role in making the conference happen. "Our attendance was outstanding throughout the week, with over 170 participants attending one or more days."

The cross-disciplinary conference, which took place May 20–23, 2014, provided an in-depth focus on prevention, response, and coping with violence and trauma in the context of families, schools, medical settings, workplace, and in the military.

"We learned cutting-edge information about the violence and trauma that can occur across the life span and techniques of how to respond to those who have experienced violence and trauma from some of the most captivating speakers I've had an opportunity to hear in person," said Vaccaro.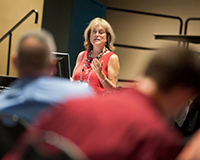 The conference included five keynote speakers, including Nan Stein (pictured), a senior research scientist at Wellesley Centers for Women, where she directs several national research projects on sexual harassment, gender violence, and bullying in schools. Her presentation, "What's the Law Got to Do with It?: Talking about Sexual Harassment, Bullying, and Gender Violence in K-12 Schools," sparked much attention.

"People came from all walks of life and across the region, country, and globe to attend and participate in IUP REACH, including places as far as Kuwait," Vaccaro said. "We, the organizers, are truly thankful for such a wonderful response for our inaugural event.

"We hope that news will spread of the great quality and prestige of speakers we recruited and how impressed they were with the efforts of IUP."