Keep your kids busy this summer with day camps at IUP. With a variety of offerings and dates, there is something to fit every interest and schedule.

Robotics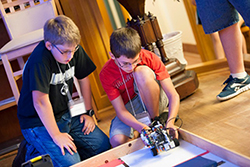 Robotics camps will run June 16 through June 19 for grades 7–9 and June 23 through June 26 for grades 10–12. Students will build their own robots using LegoMindstorm kits, program them to move objects, and learn how scientists utilize robots. The cost is $125 which includes materials and lunch.

2D Gaming

Video game design camps will run in July, with two separate sessions for each age group to accommodate busy summer schedules. Students will learn how to design, storyboard, and write scripts for their own video game across multiple platforms. The cost is $150 and includes lunch.

Electro-Optics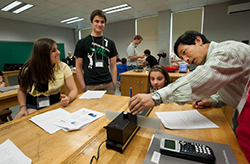 The third of the three summer camps will be offered in August for students in grades 10–12 interested in electro-optics. The camp, which runs from August 4 through August 7, is taught by Andrew Zhou of the IUP Department of Physics and is $85.

For more information, visit the Office of Adult and Continuing Education Camps and Workshops page or call 724-357-2292.