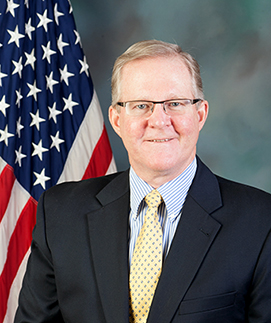 Pennsylvania House of Representatives Speaker Samuel H. Smith has been selected to receive the 2014 Indiana University of Pennsylvania President's Medal of Distinction for public service. IUP President Dr. Michael Driscoll will present the award to Smith at the annual Leader's Circle of Indiana County awards event on April 10 at the Kovalchick Convention and Athletic Complex.

The President's Medal of Distinction is the highest nondegree award presented by the university. It was established in 1985 to honor citizens of the state and region whose professional achievement or public service is of national significance or special significance to IUP.

"Not only has Rep. Smith devoted a lifetime to service to the commonwealth, he has been tireless in his commitment to the university with almost 15 years as a member of the IUP Council of Trustees," Driscoll said. "He has been an incredible advocate for IUP, for IUP at Punxsutawney, and for education at all levels."

Smith also is a long-time member of the Punxsutawney Area College Trust, a volunteer advisory board and supporter of IUP Punxsutawney and related programs.

"I am deeply honored to receive this award," Smith said. "IUP has a long and very distinguished history in our area and throughout the state. As I have served as a trustee, I have seen the university grow in very positive ways. Through innovative programming, IUP aims to prepare students of all ages for rewarding careers. The school has a vision for the future, and I am just pleased to have been a part of that for the past 15 years."

Smith is currently serving his 14th term in the Pennsylvania House of Representatives. He began serving as Speaker of the House in 2011 and was elected to a second term in this position in January 2013.

First elected in 1986, Smith has never lost sight of the issues important to rural citizens. He was born and raised in Punxsutawney and represents all of Jefferson County and portions of Indiana and Armstrong counties. He graduated from Punxsutawney High School and later earned a bachelor's degree in advertising from Penn State University.

As a legislator, Smith has focused on advancing issues important to his constituents, including job creation and retention. He is active in several community improvement organizations, including the Jefferson County Development Council and Route 119 Improvement Committee. He has been a board member of the Jefferson and Clarion Counties Community Action, Inc. Agency since 1988.

An advocate of quality education, Smith is the author of legislation creating Accountability Block Grants which have assisted school districts across the commonwealth. He received the 2012 "Elected Official of the Year Award" from the Pennsylvania Library Association for his consistent advocacy on behalf of millions of Pennsylvanians who rely on the books, computers, programs, and the expertise available in our libraries.

Smith is also well known for his leadership on conservation issues. He played a key role in securing major funding to clean up streams, improve local water and sewer services, and reclaim abandoned mines through the "Growing Greener" initiative that he authored. He currently serves as a member of the Western Pennsylvania Conservancy and the Mining and Reclamation Advisory Board.

Smith is a lifelong member of the First United Methodist Church of Punxsutawney. He and his wife, Donna, have two children, Alexandra and Zach.

The Leader's Circle awards dinner, now in its 15th year, recognizes the recipient of the IUP President's Medal of Distinction and the nominees and recipients of the Indiana County Male and Female Civic Leader awards and the Athena Award. The Leader's Circle of Indiana County includes representation from IUP, community civic organizations, past award recipients, and award sponsors.