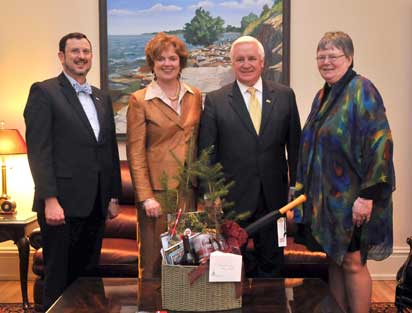 President Michael Driscoll, First Lady Susan Corbett, Governor Tom Corbett, and Becky Driscoll at a Lively Arts performance in March 2013.

First Lady Susan Corbett has announced that the 2014 Governor's Awards for the Arts will be held September 28 at Fisher Auditorium of the IUP Performing Arts Center. This will be the first time the state arts event has been held on a university campus.

"As the birthplace of Jimmy Stewart, the first recipient of Pennsylvania Governor's Awards for the Arts, Indiana holds special meaning for this occasion," said Mrs. Corbett, who chairs the Pennsylvania Council on the Arts.

"It's a tradition that the host community is named the 'Cultural Capital of the Commonwealth' for the day, and Indiana's vibrant arts community, the ongoing commitment to the arts demonstrated by the university, and the fact that we're in Jimmy Stewart's hometown makes this designation particularly appropriate."

The Governor's Awards for the Arts originated in Harrisburg in 1980 and were held there until 1996. The ceremony was then taken on the road and is now held in a different city across the state each year.

The event has allowed multiple regions of the state to share in this celebration of the arts and to showcase their unique cultural assets.

The awards recognize artistic accomplishments in four categories:

Distinguished Arts Award
Patron Award
Artist of the Year Award
Innovation in the Arts/Outstanding Leadership and Service Award
Past recipients of the Distinguished Arts Award include Marian Anderson, Andrew Wyeth, James Michener, Chaim Potok, Fred Rogers, M. Night Shyamalan, Marilyn Horne, Lang Lang, August Wilson, Rob Marshall, Jeff Koons, and Michael Keaton. There have been 178 honorees to date.

An open call for nominations goes out to more than 1,800 Pennsylvania arts professionals and is now open to the public on the Pennsylvania Council on the Arts website. Last year, nearly 200 nominations were received.

The award recipients will be announced this summer and will be posted on the Pennsylvania Council on the Arts website.

Private contributions support the awards and related expenses.

The Governor's Awards for the Arts are administered by the Pennsylvania Council on the Arts, a state agency under the Office of the Governor. The Council's mission is to foster the excellence, diversity and vitality of the arts in Pennsylvania, and to broaden the availability and appreciation of those arts throughout the state.