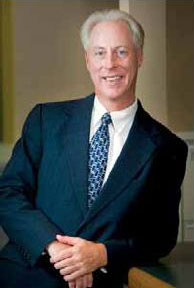 President Tony Atwater selected G. Patrick Williams as vice president for University Relations and executive director for the Foundation for IUP.
Williams, who comes to IUP from his position as senior vice president for development of the Saint Louis Science Center in Saint Louis, brings thirty-one years of experience in the fundraising, development, and advancement field. He will begin work at IUP on September 21, 2009.
"Mr. Williams brings to IUP an outstanding track record in fundraising and foundation board leadership," Atwater said. "I have unconditional confidence in his ability to advance IUP's University Relations Division and the university's development agenda."
This position has responsibility for providing leadership and direction for the university relations program; training and stewardship for the Foundation for IUP Board of Directors overseeing the operation of the foundation; and serving on the president's senior administrative cabinet. The University Relations Division is organized primarily to position and market the university and to direct and coordinate private resource acquisition.
"IUP has a rich history of excellence as a distinguished institution of higher education in the state of Pennsylvania and is recognized nationally," Williams said. "To have the opportunity to be affiliated with this tradition of successful service to the students, the public, and IUP's 110,000 alumni is a role I look forward to advancing."
Williams has served in his current role since 2007. During his tenure at the science center, he was responsible for the organization's first seven-figure annual gift.
From 2000 to 2007, he served as vice chancellor of university relations at Southern Illinois University Edwardsville and chief executive officer for the Southern Illinois University Edwardsville Foundation. During his work there, he set annual fundraising records for seven consecutive years, achieving a 500 percent increase in giving over seven years. He also achieved record levels in assets, income, endowment, gifts, and donor totals, and, under his leadership, the university received the largest cash gift, planned gift, estate gift, and gift of property in its history.
He also established an integrated marketing and communications division at the university and a "Town and Gown" committee.
As vice president for institutional advancement at Lourdes College, Sylvania, Ohio, and president and CEO of the Lourdes College Foundation from 1991 to 2000, he successfully developed and implemented the college's multimillion-dollar capital campaign and increased total dollars raised annually by more than 350 percent. He also increased the college's endowment investment portfolio by 250 percent. During his tenure there, he established an alumni association and formatted and initiated a marketing and public relations plans that resulted in a 110 percent increase in enrollment.
From 1988 to 1993, Williams worked in executive leadership roles with three home health care system companies, including MCOSS Inc. and Metaplex Management Services Inc., both of Red Bank, N.J., and F.G.A. & Associates of Piscataway, N.J.
Williams began his career as a finance and fundraising director with the Boy Scouts of America Councils in Bloomsburg, Wilkes-Barre, and Oakhurst, N.J. He served in that position from 1978 to 1988.
Williams has a master of science degree in health and human services administration from Misericordia University and a bachelor's degree in political science from Kings College.
He has achieved advance certified fundraising executive status from the Association of Fund Raising Executives (AFP), a designation held by only eighty of the 35,000 AFP members. He has served as national delegate and chairman of the National Government Relations Committee and as chairman of the National Publication Advisory Committee and National Membership Committee of that organization.
He served on the board of directors of the AFP and is the former president of the association's northwest Ohio chapter.
He has also been active as a presenter and instructor for several national organizations, and hosted a television show on health issues while working with health care companies in New Jersey.
Williams is originally from Kingston, Pa. He is the father of four children: Rudy, 25; Ryan, 22; Jonathan, 22; and Hannah, 15.
Lynn Iams Barger, IUP associate vice president for development, has served since May in the role of acting vice president for university relations and acting executive director of the Foundation for IUP. She replaced Robert Davies, who left IUP for the presidency of Eastern Oregon University.