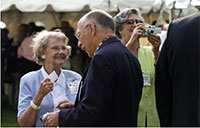 More than two hundred graduates of Indiana University of Pennsylvania and their guests will return to campus June 5 and 6, 2009, for the university's annual Alumni Reunion Weekend.
The event will include special recognition of fifty-six fifty-year graduates, called "pioneers," who will receive special pioneer medallions.
Class of 1959 graduates from Indiana County who will be honored as pioneers include Janice Conn Henry, of Cherry Tree; Nancy Stiver Laird, of Indiana; and Dr. James H. McCormick, now of Woodbury, Minn., originally of Indiana County.
McCormick, a Distinguished Alumni Award recipient, served as the first chancellor of the Pennsylvania State System. He led the system during its first eighteen years of existence and was recognized in April by the Board of Governors of the Pennsylvania State System of Higher Education with the title of chancellor emeritus.
McCormick left Pennsylvania in 2001 to become chancellor of the Minnesota State Colleges and universities system. He also served for ten years as president of Bloomsburg State College and for eight years as a professor and administrator at Shippensburg State College.
Six pioneers—graduates from the classes of 1933–1958 who have not yet been able to return to campus for recognition in past years—will be recognized. These individuals include Dr. David H. Laird, of Indiana, a member of the class of 1957. The most senior pioneer to be recognized this year is Mary Robinson Rainforth, of White Oak, a member of the class of 1933.
Each year, alumni returning to campus to celebrate their reunions make gifts to the university. The class of 1959 has elected to support a special project to bring the sound of chiming bells back to the John Sutton Hall Bell Tower's carillon. The goal is to raise $30,000 to $50,000 toward this campus initiative.
Alumni also contribute to the Reunion Year Scholarship fund. Established in 2004, this is an endowed fund that has combined gifts from all fifty-year reunion classes and provides awards to deserving IUP students.
During the weekend, alumni will take advantage of tours and special points of interest within the Indiana County area, including the Jimmy Stewart Museum.