Biography: Ronald E. McNair, PhD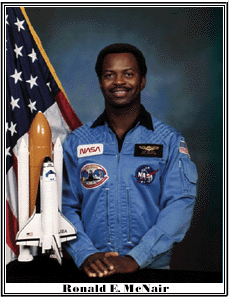 "Whether or not you reach your goals in life depends entirely on how well you prepare for them and how badly you want them . . . . You're eagles! Stretch your wings and fly to the sky."

Ronald Erwin McNair was born October 21, 1950, in Lake City, South Carolina. In junior high school, Dr. McNair was inspired to work hard and persevere in his studies by his family and by a teacher who recognized his scientific potential and believed in him. Dr. McNair graduated as valedictorian from Carver High School in 1967. In 1971, he graduated magna cum laude and received a BS degree in Physics from North Carolina A&T State University. He then enrolled in the prestigious Massachusetts Institute of Technology. In 1976, at the age of 26, he earned his PhD in laser physics. His dissertation was titled "Energy Absorption and Vibrational Heating in Molecules Following Intense Laser Excitation."Dr. McNair was presented an honorary doctorate of Laws from North Carolina A&T State University in 1978, an honorary doctorate of Science from Morris College in 1980, and an honorary doctorate of science from the University of South Carolina in 1984.

While working as a staff physicist with Hughes Research Laboratory, Dr. McNair soon became a recognized expert in laser physics. His many distinctions include being a Presidential Scholar (1971-1974), a Ford Foundation Fellow (1971-1974), a National Fellowship Fund Fellow (1974-1975), and a NATO Fellow (1975). He was also a sixth-degree black belt in karate and an accomplished saxophonist. Because of his many accomplishments, he was selected by NASA for the space shuttle program in 1978. His first space shuttle mission launched successfully from Kennedy Space Center on February 3, 1984.

The McNair Scholars program is dedicated to the high standards of achievement inspired by Dr. McNair's life.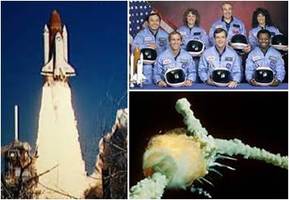 Dr. McNair was the second African American to fly in space. In 1986, he was selected to serve as mission specialist aboard the ill-fated U.S. Challenger space shuttle. He was killed instantly when the Challenger exploded one minute, thirteen seconds after it was launched. Dr. McNair was posthumously awarded the Congressional Space Medal of Honor. After his death in the Challenger Space Shuttle accident on January 28, 1986, members of Congress provided funding for the Ronald E. McNair Post-Baccalaureate Achievement Program. Their goal was to encourage low-income and first-generation college students, and students from historically underrepresented ethnic groups, to expand their educational opportunities by enrolling in a PhD program and ultimately pursue an academic career.

Special Honors:

Graduated magna cum laude from North Carolina A&T (1971); named a Presidential Scholar (1967-1971), a Ford Foundation Fellow (1971-1974), a National Fellowship Fund Fellow (1974-1975), a NATO Fellow (1975); winner of Omega Psi Phi Scholar of the Year Award (1975), Los Angeles Public School Systems Service Commendation (1979), Distinguished Alumni Award (1979), National Society of Black Professional Engineers Distinguished National Scientist Award (1979), Friend of Freedom Award (1981), Who's Who Among Black Americans (1980), an AAU Karate Gold Medal (1976), five Regional Blackbelt Karate Championships, and numerous proclamations and achievement awards.

Awards:

Posthumously awarded the Congressional Space Medal of Honor