Cyber Security, Computer Science, BS
Benefit from Our Academic Excellence in Cyber Defense
For about two decades, IUP has been designated by the National Security Agency as a Center of Academic Excellence in Cyber Defense Education, a designation that indicates that our Cybersecurity curriculum meets the stringent requirements set forth by the NSA. The Cyber Security track prepares students for jobs such as network administrator, information security analyst, security engineer, or network security manager.
In addition to a series of courses focusing on cybersecurity, students are required to take a course in which they must put to practical use what they have learned. This may be done using team projects in a single three-credit course. However, we encourage students to consider taking a three- to eight-month paid internship to get the true flavor of applying their computing knowledge to industry.
Students in the Cyber Security track are also required to take a minor in criminology. Upon completion of the degree requirements, our Cyber Security graduates work in various posts, including public and private sectors, as well as various DoD and federal government agencies.
Enrollment and Graduation Statistics
As of fall 2020, the IUP Cyber Security program has 120 students enrolled, and about 20 students annually complete the program and receive their BS degree in computer science/cyber security track.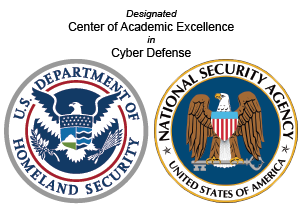 Course Requirements
Total Degree Requirements: 120 credits
Computer Science: 49 credits
Liberal Studies: 43–44 credits
Additional Requirements:

Minor in Criminology: 15 credits
Math: 3 credits

Free Electives: 9–10 credits
Computer Science
Required Courses
COSC 105 - Fundamentals of Computer Science, 3 credits
COSC 110 - Problem Solving and Structured Programming, 3 credits
COSC 210 - Object-Oriented and GUI Programming, 3 credits
COSC 220 - Applied Computer Programming, 4 credits
COSC 300 - Computer Organization and Assembly Language, 3 credits
COSC 310 - Data Structures and Algorithms, 3 credits
COSC 319 - Software Engineering Concepts, 3 credits
COSC 341 - Database Management, 3 credits
COSC 380 - Seminar in Computing Profession and Ethics, 2 credits
COSC 480 - Seminar on Technical Topics, 1 credit
Cyber Security Required Courses 
COSC 216 - Introduction to Cybersecurity, 3 credits
COSC 345 - Computer Networks, 3 credits
COSC 356 - Network Security, 3 credits
COSC 473 - Software Engineering Practice, 3 credits 
or

 

COSC 493W - Internship in Computer Science, 6–12 credits
Controlled Electives
(Select six credits from the following courses)
COSC 362 - Unix Systems, 3 credits
COSC 365 - Web Architecture Application Development, 3 credits
IFMG 382 - Auditing for EDP Systems, 3 credits
Upper-Level Electives
(Select three credits from the following courses.)
COSC 410 - Computer Architecture, 3 credits
COSC 427 - Introduction to Cryptography, 3 credits
COSC 429 - Digital Forensics, 3 credits
COSC 430 - Introduction to Systems Programming, 3 credits
COSC 432 - Operating Systems, 3 credits
COSC 454 - Information Assurance Administration, 3 credits
COSC 465 - Distributed Processing and Web Services, 3 credits
COSC 482 - Independent Study, 3 credits
Liberal Studies
Note: As outlined in Liberal Studies section with the following specifications:
Social Science: CRIM 101
Mathematics (3 credits): MATH 125
Liberal Studies Electives (3 credits): MATH 216
Additional Requirements
Minor in Criminology: 15 credits
Mathematics: MATH 309 Discrete Mathematics, 3 credits
The IUP Undergraduate Catalog is the final determiner of all requirements for all degrees. This document is a simplification of catalog information and is meant only for basic advising of computer science majors. For more details, see your advisor.
Computer Science Cyber Security Track Graduation Checklist
Cybersecurity Program-level Student Learning Outcomes
Upon graduation, a graduate of the Cybersecurity track will be prepared to:
Analyze a complex computing problem and apply principles of computing and other relevant disciplines to identify solutions.
Design, implement, and evaluate a computing-based solution to meet a given set of computing requirements in the context of cybersecurity
Communicate effectively in a variety of professional contexts.
Recognize professional responsibilities and make informed judgments in computing practice based on legal and ethical principles.
Function effectively as a member or leader of a team engaged in activities appropriate to cybersecurity.
Apply security principles and practices to the computing environment, hardware, software, and human aspects of a system.
Analyze and evaluate systems with respect to maintaining operations in the presence of risks and threats.