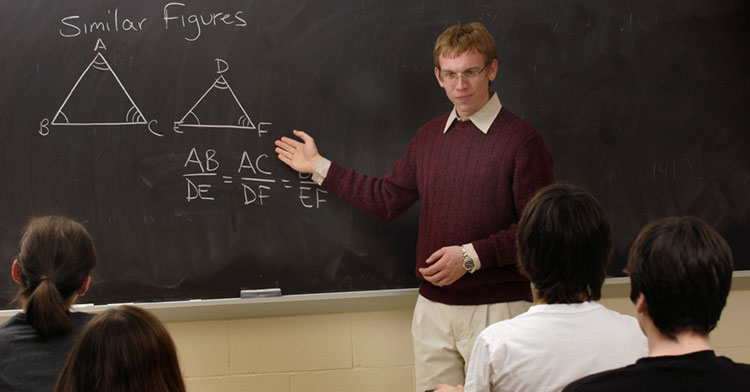 Enroll in Our Secondary EducationSpecialization to Earn Your Master's Degree in Math Education Online
High school teachers have unique needs, having to teach advanced math subjects and encountering situations that are not present with younger children. As a result, it makes sense to earn your master's degree in Mathematics Education while specializing in secondary education.
Many of our master's candidates already teach in a secondary school, but wish to improve their instructional abilities. With an MEd in Mathematics Education in hand, our students begin to serve as resource teachers, coordinators, and other leadership roles within secondary education settings. All courses are offered online to maximize convenience and flexibility for students and working teachers around the United States.
Enhance Your Professional Qualifications
The Secondary Education specialization within our master's degree in Math Education meets the credit requirements for Instructional Level II certification. Upon earning your degree online, you will be able to enter into leadership positions within your school district or prepare for doctoral studies. The MEd in Mathematics Education at IUP does not provide initial certification or grades K-6 certification for those who hold a 7-12 Level I certificate.
Convenient Online Format
Our program is designed specifically with flexibility in mind for current mathematics teachers. The MEd in Mathematics Education, Secondary Specialization is offered entirely online. As a student, you will be able to take classes in any order, entering at any time and studying only during the semesters most convenient for you.
Advantages of Earning Your MEd in Math Education
Gain confidence and invaluable insight into practical ways to teach math that are both appealing and effective for high school students.

Take advantage of the best and most current research for effective classroom practices at the secondary school levels.

Explore the real day-to-day challenges of teaching. Learn how to work with diverse learners, identify best practices while working with teaching standards, and incorporate current technologies into the classroom.

Learn from faculty members who have experience teaching at the secondary level and who understand the joys and challenges of teaching students in high school.
Applying to Earn Your MEd in Math Education at IUP
Applying to the Secondary Mathematics specialization of IUP's MEd in Math Education is simple. Create your admissions profile and fill out the online application, then upload any materials needed to complete your application.
Contact Us
Dr. Valerie Long
Graduate Coordinator, MEd in Mathematics Education
724-357-4060
vlong@iup.edu
IUP Graduate Admissions
724-357-2222
graduate-admissions@iup.edu