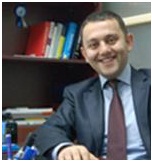 Mr. Onur nl, a doctoral student from Erciyes University in Turkey,was hosted by the IUP Department of Sociology and MARTI as he continued his studies. Hewas a visiting scholar at MARTI from September 2012 to September 2013.

In 2005, Mr. nl completed a B.A. in Political Science and Public Administration at Kocaeli University. He then went on to complete his M.A. in Management Sciences at the same university. He began his doctoral studies on Management and Organization at Erciyes University in 2008. At Yalova University, Mr. nl is a research assistant for the Department of Business Administration, an English instructor of Business Administration, and the departmental coordinator for the Erasmus Program in the Department of Management.

Mr. nl has accomplished much in the fields of strategic planning and positive deviance. He, with zdeveciolu Mahmut and Akn Mahmut, wrote "The Effects of Tendency of Revenge and Forgiveness on Mental Health of Employees," which was published in the Turkish Social Sciences journal Amme daresi Dergisi. Most recently, his work "Workplace Exclusion and Employee Performance in Organizations," which he coauthored with three other scholars, was presented at the 2012 International Academy of Management and Business Conference. Mr. nl's publications cover a variety of subjects, including the impact of human resources practices. His interests include sociology, social psychology, and organization theory.

During the time that he was a visiting scholar here, Mr. nlworked on his dissertation on the concept of Positive Deviance with the assistance of Dr. Alex Heckert, whose expertise and journal articleswere of great use.