General Management, Management, BS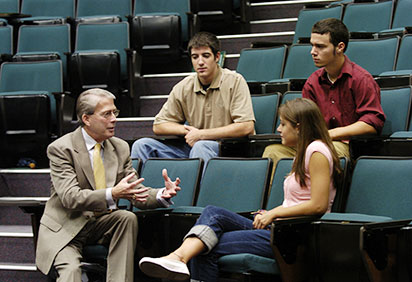 Prepare to Take the Lead in the Business World
Leaders are good decision makers. They know how to evaluate ideas, take action, and organize other people to make plans work. As a management major pursuing the General Management track at Indiana University of Pennsylvania, you'll come to know your decision to enroll in the Eberly College of Business was an excellent choice.
Among the classes you'll take are Accounting Principles I and II, Legal Environment of Business, Fundamentals of Finance, Business Policy, Principles of Marketing, Production and Operations Management, Business Statistics, Human Resource Management, and Quality Management.
Goal-Driven Leaders Move Companies Forward
The General Management track emphasizes the achievement of organized goals through the efforts of organization members, preparing you for a leadership role in the competitive world of business. The Bachelor of Science in Management degree achieved in pursuit of the General Management track prepares you for a career in business. Managers find job opportunities in both the public and private sectors.
General Management Graduates will be Professionally Competent in the Following Areas:
After successfully completing the degree in Management with concentration in General Management, the student will be able to demonstrate an understanding of the manager's role as a process for achieving organizational goals through planning, organizing, leading, and controlling company resources.
After successfully completing the degree in Management with concentration in General Management, the student will be able to identify the relationship between organizational behavior concepts and effective management practices