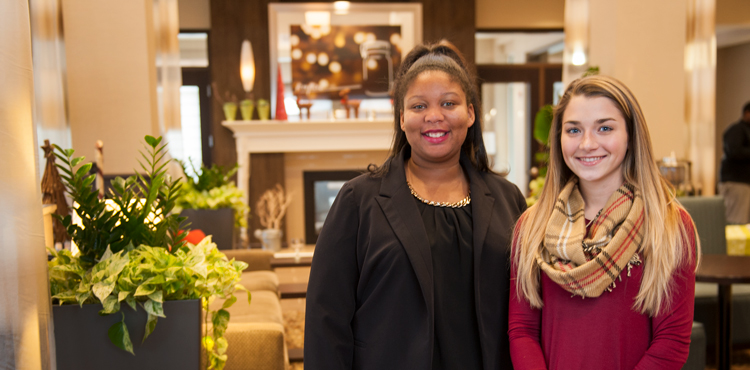 Advance Your Career in Hotel, Restaurant, Tourism, and Event Management with Your Degree
With this degree, you can move your career ahead and gain the skills to qualify for management jobs with one of the world's largest employersthe hospitality industry.
We stand out as a premier program, in the state and nationally, for the number of specific hospitality management classes you can take and for the expertise of our professors, who bring their career experience to you in the classroom.
We are one ofonly six universities and colleges accredited for hospitality management in the stateand the only program on the western half of Pennsylvania, south of Erie.
Both our associate degree and bachelor's degree programs are accredited by the Accreditation Commission for Programs in Hospitality Administration.
The program has a strong reputation with industry recruiters for graduates who are well trained and experienced.
Benefits You'll Get in Our Program:
Hands-on hospitality management experience that coordinates with what you learn in the classroom

Wide range of topics coveredgiving you the flexibility to adapt to job trends

Only 60 total credits are needed for the associate degree, making it possible to complete the degree in two years

Faculty with management experience in the hospitality industry

Strong alumni network

Dedicated Industry Advisory Board made up of professional hospitality executives (some are also alumni, most are recruiters who hire our studentsand advise us)

Well-established internship program

Most of the 36 credits of core hospitality management classes can be taken online (varying semestersfall, spring, winter, and summer sessions)
Hands-on Management Training Gives You Confidence to Lead
Before starting your internship, you'll have hands-on opportunities to try out what you're learning so you'll be ready to make a great impression when you are at your internship site.
The Allenwood lab offers tremendous hands-on experience designed to build your skill set and your confidence as a manager. Get experience with both front and back of the house operations, customer service skills, operating commercial food production equipment, and food production.

We have just enhanced our already strong relationship with Aramark (which supplies our contracted food services on campus) to include an opportunity for students in theFood Service Operations course to rotate through Aramark's four production kitchens for hands-on training in all aspects of food service right here on campus.
Program Option: Continue on to Earn Your Bachelor's Degree
Our associate degree program is flexible to give you the option of continuing on to earn your bachelor's degree. We are one of the only hotel, restaurant, tourism, and event management bachelor's degree programs in the state and the country that offers 60 credits within the major, and all 60 credits are hospitality-management-specific courses. We also require two specific hospitality management internships for the bachelor's degree.
You'll have courses and training in hotel operations, event planning, food production/culinary foundations, catering operations, casino operations, and hospitality-specific management content in principles of management, cost controls, human resources management, legal issues, purchasing, and marketing.
In addition, bachelor's degree students can choose from two core concentrations to specializehotel and lodging management or special events and tourism management. We think you won't find another program that gives you more in-depth coverage of all of the major segments of the hospitality industry.
Begin Networking Right Away
In addition to your classes and hands-on experiences, you can begin your career networking while you are a student. We host two professional student organizations in the departmentClub Managers Association of America (CMAA) andMeeting Professionals International (MPI).