2019-20 Season Information

The Lively Arts continues to keep ticket prices incredibly low—a fraction of what you would pay, for example, in Pittsburgh for the exact same production. There are four basic subscription package choices that are designed to fit your needs. The deadline to order your subscription is Friday, September 20, 2019, with members of our Premiere Club at the $250 level and above receiving exclusive priority through the end of August. See the brochure order form for details.
Downloads and Relevant Links
Ordering Subscriptions
It's simple, easy, and fast. From above, you can download a subscription order form or click on the link to order online. And, remember, if you are a Premiere Club member at the $250 level or above, you will receive exclusive priority through the end of July. No other seats will be filled before then. If you are not at that level or higher, other seats will start to be filled after July, with Premiere Club members always at the front of the line. To join the Premiere Club, just fill the information out on your order form or donate online.
General Subscription Information

Ovations! Subscription
Subscribe to all nine Ovations! events, and you will save up to 15 percent off the single-ticket price. It's easy, and it gives you all the variety offered in the Ovations! series, securing your reserved seats before the season begins. You can save over $40 per Ovations! subscription.
Totally Everything Package
One of the most popular packages for more than 25 years, this gives you a ticket for every event and still saves you up to 15 percent off single-ticket prices. You will get to see all nine Ovations! events, along with the other events presented by Theater-by-the-Grove, Dance Theater, Music Theater, and Sound Choices. You can save over $60 per Totally Everything subscription package.
Flex Pak: Pick 8
The Flex Pak is something that may just fit your needs perfectly. Order at least one ticket to at least eight different events, and you're done. The ticket price is the same as the already low single-ticket price, and you get all of your tickets up front before they go on sale to the general public. Let us know if you have questions or need assistance.
NEW!
I

love

IUP Subscription
This new subscription package features all of the performances of our talented students, faculty, and alumni of the College of Fine Arts. Don't miss this great opportunity to see our best and brightest from IUP!
Subscriber Benefits
As a subscriber, you receive…
Up to 15 percent off when ordering the All Ovations! or Totally Everything package, saving as much as over $60 off per subscription.
No per-ticket fee, only the per order handling fee of $6. For a Totally Everything package, for example, this would save you $57 for every package you order.
All of your tickets for all events before the general public.
Advance single-ticket privileges allowing you to order additional tickets with your subscription before they go on sale to the general public. If it is an event to which you are already subscribing, there is no limit to the number of additional seats you may purchase (for single-ticket prices, call the Lively Arts or check the Flex Pak form).
Exclusive exchange privileges for multi-performance productions if your plans change, provided that seats are available and the Lively Arts receives your tickets for exchange at least 24 hours in advance.
Advance notification of next year's season with opportunity to purchase subscriptions before the general public.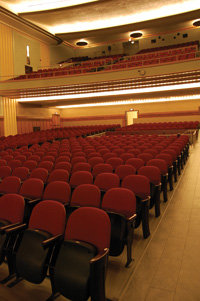 How Is Your Order Filled?
All orders will be acknowledged by e-mail or telephone within 10 days. All subscriptions are filled and seats assigned in the order in which requests are received. Premiere Club members contributing $250 or more receive exclusive priority through August 25 and top daily priority after that. All other orders are filled starting August 26.
When Are Your Tickets Sent?
We will begin sending printed tickets no later than August 30, well in advance of the first subscription event.
I-Card Information
You may purchase up to four subscriptions per I-Card and must provide your currently-valid Banner ID number when ordering. To receive the I-Card price, your activity fee must be paid for the upcoming academic year before August 27.
Reserved and General Admission Seating
Seating for Ovations! events in Fisher Auditorium are reserved, and seating for Gorell Recital Hall events are by general admission. Seating for Theater-by-the-Grove, Dance Theater, Music Theater, and Sound Choices are also by general admission. For the Ovations! series, balcony seating may not be available for all events.