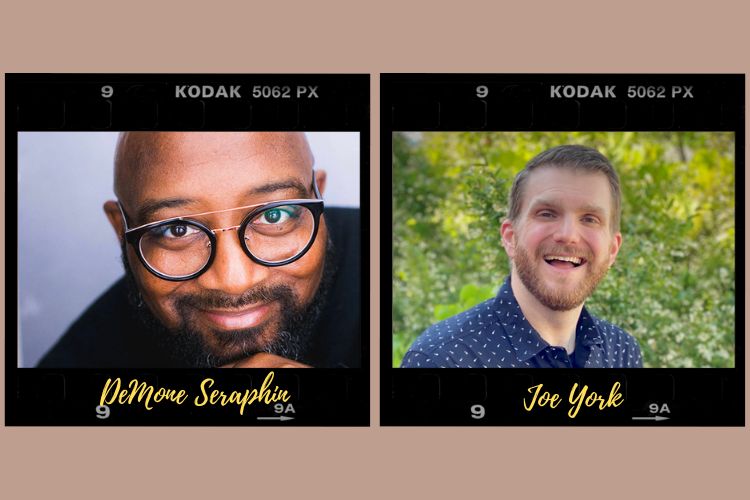 Spring means romance is in the air. IUP's Theater-by-the-Grove in co-production with Music Theater will present a new musical written by IUP alumnus Joe York (2012) and his writing partner Hali Alspach opening March 29 at 7:30 in Waller Hall's main theater.
A Blossoming Romance runs five performances from March 29 through April 1 at 7:30 p.m. and a matinee on Sunday, April 2, at 2:00 p.m. Student tickets are $12, senior 60+/I-Card (non-student)/military tickets are $15, and regular tickets are $18. Tickets are available through the Lively Arts or at the door.
A Blossoming Romance is directed by special guest artist DeMone Seraphin. Seraphin is a Broadway actor, regional theater director, and producing partner of the Avant Bard Theatre in Arlington, Virginia. "What a joy it is to share creative space with these student artists!" Seraphin said. "They are our future, and I'm over the moon to share with them the much-needed tools that will help them navigate an artistic life beyond the hallowed halls of ivy."
Seraphin comes to IUP through a strategic planning grant from the President's office written by professor Brian Jones to invest in student engagement with creative research, diversity, and an enriched alumni connection. "Creating the premiere performance of a new musical is a big deal," noted Jones. "The development of new works is an important dimension of the performing arts—one not regularly available to undergraduate students. To be able to do so with a director the caliber of DeMone Seraphin makes it even more special for our students and the writing team."
"We wanted a college to be the producing organization to originate this work," said York. "Gen Z has a particularly new mindset and worldview. Hearing the piece in their voice is great!" About working with the production team, he said, "DeMone is a fantastic director for the project. He's a genuinely nice person. The necessary changes have been a wonderfully transparent, back and forth process. And working with Sabin Fisher's orchestrations has been a beautiful experience, too." York teaches playwriting classes in Pittsburgh and teaches at Lincoln Park Performing Arts Charter School in Midland, Pennsylvania.
A Blossoming Romance is a musical of acceptance and inclusion set in Pittsburgh. Reflecting on the show after a few weeks of rehearsal, director Seraphin says, "In this fun, quirky musical we learn that different isn't deficient and love can be found in the most unlikely places with even more unlikely people." Brady, a socially awkward person, desperately tries to connect with anyone willing to look past his nerdy demeanor. But Brady's world changes forever when he meets Clara, the energetic employee of a local flower shop who always sees life as "a glass half full." Seraphin said, "We also learn that love/life is a game that must be played with one's entire heart and with beautiful abandon."
The student cast features double casting of a "rose" cast and a "tulip" cast sharing the stage on alternate nights, so you may want to see this show twice to see and hear two interpretations. Music direction, costuming, and lighting also feature special student/faculty collaborations in this original project. Oliver Lo is bringing on IUP graduate student Sabin Fisher as co-director of music. Fisher is also getting the opportunity to orchestrate the score for the writing team of Alspach and York. "Coming back to IUP has been a dream," said Fisher. "It has been an enjoyable challenge to orchestrate Hali's beautiful score. It's always really fun to take a piano line and build upon it and flesh it out."
Costume designer Nancy Pipkin-Hutchinson is mentoring IUP fashion studies major Chloe McKinney. "It's really Chloe's design, and I'm marveling at her brilliance," said Pipkin-Hutchinson. "As York had hoped, she is bringing her Gen-Z aesthetic to a delightful musical."
Theatre major Cierra Miller is designing lighting under the care of professor Brian Jones as her senior thesis project. Jones noted, "Miller learned a lot designing the lighting for Measure for Measure last semester and is putting what she learned into practice. She's developing an approach to lighting that responds to the story being told on stage."
The production is generously supported by IUP's Student Co-Operative Association in which Theater-by-the-Grove is a recognized student organization. Significant support has also been provided through a generous gift to the Foundation for IUP from local residents John and Gretchen Barbor. The Barbors funded Theater-by-the-Grove's new wireless microphone system, which is essential to an optimal audience listening experience.