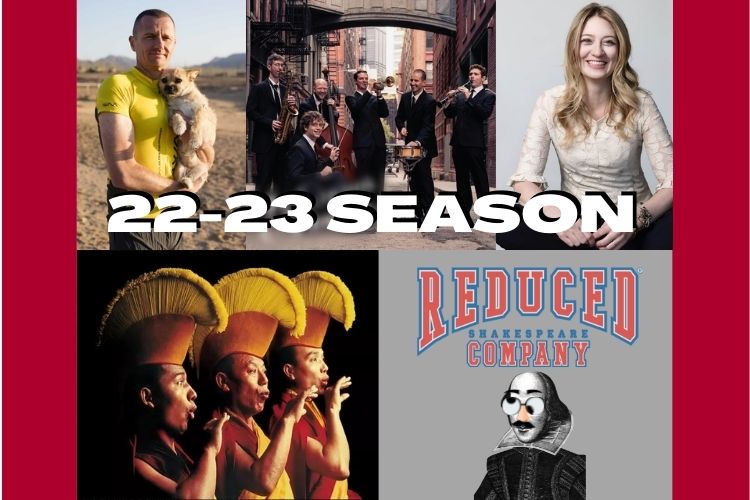 In celebration of its home in the recently formed College of Arts and Humanities, the Lively Arts at IUP opens its 2022–23 Ovations season with the New York Times best-selling author Dion Leonard and his amazing dog Gobi on Wednesday, November 16, 2022, at 7:30 p.m. in Room #225 of Jane Leonard Hall on the campus Indiana University of Pennsylvania. 
In his 20's, Dion Leonard's lifestyle was slowly killing him.  He was an overweight pack-a-day smoker and a heavy drinker who drank to hide from the demons from his childhood. Dion started to overcome the memories of his past and health problems when he took up the sport of ultra running.  From not being able to run around the block, Dion went on to become one of the best ultra runners in the world competing in some of the world's toughest endurance races across the planet's most inhospitable locations.
One act of kindness would change Dion's life forever during a 155-mile ultra race in the Chinese Gobi Desert when a stray dog ran with him, forming an unbreakable bond that would become the ultimate challenge.  Their epic adventure would change both of their lives forever. Dion's story became a global phenomenon leading him to become a New York Times bestselling author of Finding Gobi, which has been printed in 23 languages.  This story is also in production to be a movie with an anticipated release by Sony Pictures in 2023.
Dion has risen from a dark and troubled past to overcome the most adverse of situations to become one of the best ultra runners in the world.  His story shows that through dedication, perseverance, and determination it's possible to conquer extraordinary challenges, whether that is against the race terrain of a desert or day-to-day life. Dion's drive to succeed in not only ultra running but life in general is unquestionably one of his strengths.
Come and be inspired.  Bring your friends and enjoy this special evening.  All ticket proceeds will be donated to IUP's therapy dog program, Just Paws.  Tickets for this event are available online through the Lively Arts website.  Patrons who have questions or wish to purchase tickets by phone may call the Lively Arts office at 724-357-2787, Monday through Friday, 10:00 a.m. to 4:00 p.m. for assistance. Any remaining seats will be sold at the door starting one hour before the performance.
The Ovations Series is funded, in part, by donations through the Premiere Club, business sponsorships, grants, and the IUP Student Cooperative Association. The Lively Arts, a program of the College of Arts and Humanities, presents nearly 200 performances, programs, and exhibits annually. 
2022–23 Season Notes:  
Due to the continuing changes in performance details, an updated season brochure is available online for download as a PDF (This document incorporates the changes as they occur into a document that is revised and posted online). A printed season brochure is not available for this season.  We apologize for any inconvenience this may cause.

Single tickets are available this season for Ovations events. If patrons would like to purchase a subscription to all four Ovations events online, ticket fees will be waived.

All seating is general admission.