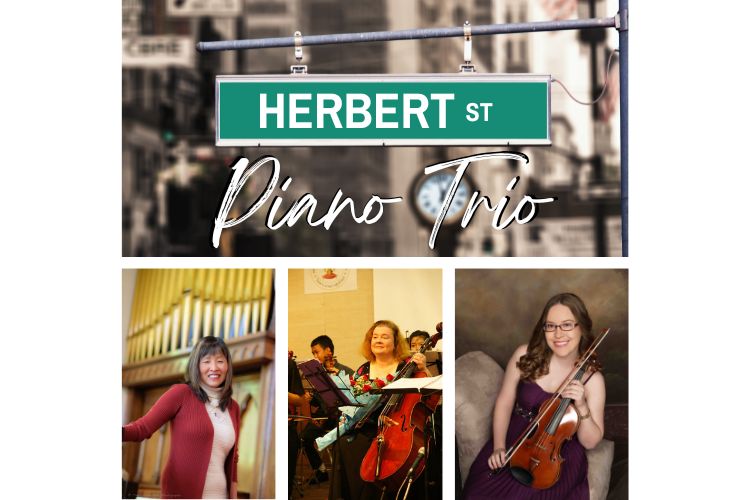 The Herbert Street Trio will present a recital of piano trio music on Tuesday, October 11, at 8:00 p.m. in Gorell Hall. The program will feature works by British composers Charles Villiers Stanford, John Ireland, and Samuel Coleridge Taylor.
The Herbert Street Trio is dedicated to bringing the works of Charles Stanford to wider audiences. Stanford played a special role in the legacy of the late romantic music period as teacher to the next generation of leading English composers such as Gustav Holst, Ralph Vaughan Williams, John Ireland, Rebecca Clarke, Samuel Coleridge Taylor, and Frank Bridge. Although Stanford's choral and organ works are well known, his piano trios are not often heard. Included in this program are works by his students John Ireland and Samuel Coleridge Taylor who studied with him at the Royal Conservatory in London.
The Herbert Street Trio consists of IUP faculty members Christine Clewell, piano, and Linda Jennings, cello, and guest violinist Colleen Ferugson, a music faculty member at A&M University, Kingsville, Texas.
Tickets for this event are available for purchase online through the Lively Arts. Patrons who have questions or wish to purchase tickets by phone may call the Lively Arts office at 724-357-2787, M–F, 10:00 a.m.–4:00 p.m. for assistance. Any seats remaining will be sold at the door starting one hour prior to the performance.
This event is produced by the IUP Department of Music and the College of Arts and Humanities. This production is funded, in part, by the IUP Student Cooperative Association. The Lively Arts, a program of the College of the Arts and Humanities, presents nearly 200 performances, programs, and exhibits annually.