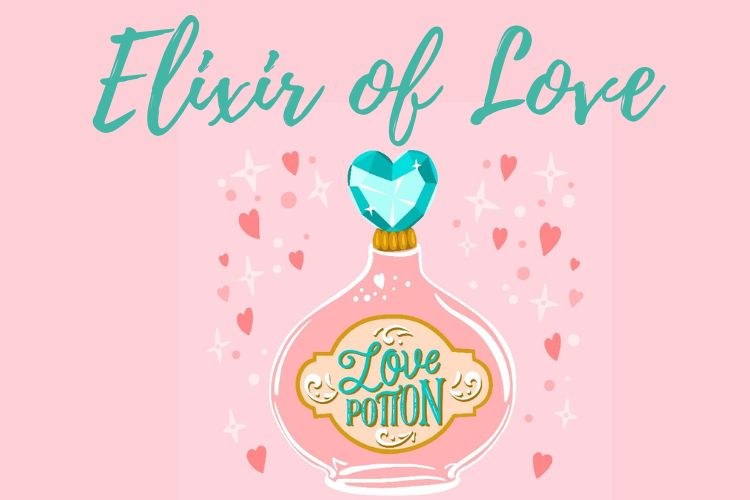 Indiana University of Pennsylvania's Music Theater will present the comic opera The Elixir of Love, with music by Italian composer Gaetano Donizetti and libretto by Felice Romani. Performances will take place October 13–14 at 7:30 p.m. in Fisher Auditorium. The opera will be sung in Italian with English dialogue and projected English supertitles.  The running length of the opera is approximately 90 minutes with one intermission.
Although this opera originally premiered in Milan in 1832, audience members for the IUP performances will be treated to an updated production set against the contemporary American backdrop of an Air Force base. Adina, the female protagonist, will be a NASA scientist instead of a farm-keeper, and Belcore will be a Top Gun pilot instead of a sergeant. The Elixir of Love explores the nature of true love and features a feisty female leading role. 
IUP faculty member and director of Opera and Music Theater, Oliver Lo, served as the director for this production of The Elixir of Love. Teresa Cheung will serve as guest conductor for this production; Maestra Cheung served as the music director of the Altoona Symphony Orchestra for 13 seasons. The opera will be accompanied by a professional chamber orchestra led by Stanley Chepaitis. It also features IUP flute, bassoon, and string professors Therese Wacker, Jason Worzbyt, and Florrie Marshall.
In describing his thoughts on the upcoming production, Lo remarked, "We are very excited about the Top Gun twist of this production. As a Top Gun fan, I was excited to integrate American culture to make this a unique production."  Lo continued, "The composer Donizetti is considered a master of catchy melodies; I get into a better mood just by listening to his tunes! Great music therapy for all of us! This opera will make you laugh, cheer, and maybe even fall in love."
Tickets for this event are available for purchase online through the Lively Arts. Patrons who have questions or wish to purchase tickets by phone may call the Lively Arts office at 724-357-2787, M–F, 10:00 a.m.–4:00 p.m. for assistance. Any seats remaining will be sold at the door starting one hour prior to the performance.
This event is produced by the IUP Department of Music and the College of Arts and Humanities. This production is funded, in part, by the IUP Student Cooperative Association. The Lively Arts, a program of the College of the Arts and Humanities, presents nearly 200 performances, programs, and exhibits annually.