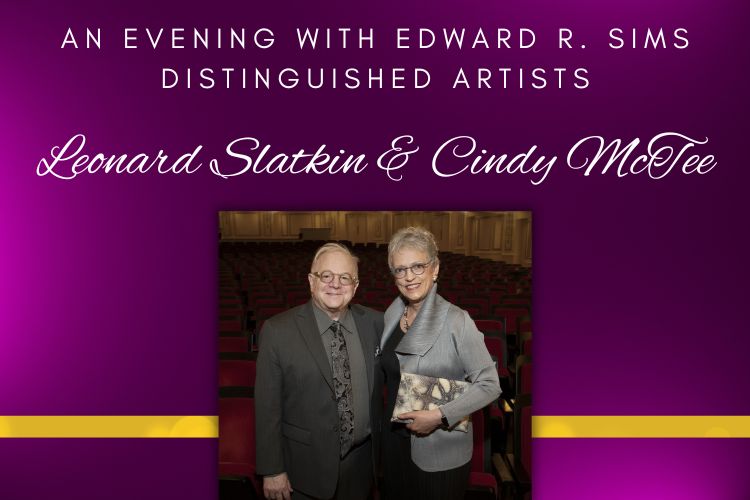 The Department of Music and the College of Arts and Humanities at IUP are proud to announce a week-long residency of two internationally acclaimed artists: conductor Leonard Slatkin and composer Cindy McTee. Thanks to the generosity of the Dr. Edward R. Sims Distinguished Artists fund, these two artists will be giving lectures, rehearsals, and performances with IUP students and faculty from September 26 through September 29.
Internationally acclaimed conductor Leonard Slatkin is music director laureate of the Detroit Symphony Orchestra, directeur musical honoraire of the Orchestre National de Lyon, conductor laureate of the St. Louis Symphony Orchestra, and principal guest conductor of the Orquesta Filarmónica de Gran Canaria. He maintains a rigorous schedule of guest conducting throughout the world and is active as a composer, author, and educator.  
Hailed by the Houston Chronicle as a composer whose music reflects a "charging, churning celebration of the musical and cultural energy of modern-day America," Cindy McTee "brings to the world of concert music a fresh and imaginative voice." McTee has served on the faculty of several schools of music, and just recently concluded a distinguished tenure as professor of composition at the University of North Texas.  
Worthy of specific mention are an open question and answer session with the artists, as well as two public concerts by IUP faculty, students, and alumni. Please consider visiting IUP for a moderated discussion with Maestro Slatkin and Dr. McTee on September 27 from 2:20 to 4:00 p.m. in Gorell Recital Hall (free), a concert featuring chamber music of McTee and IUP composers on September 27 at 7:30 p.m. in Gorell Recital Hall (free), and a final gala concert featuring the IUP Symphony Band, Orchestra, and Wind Ensemble in Fisher Auditorium on September 29 at 7:30 p.m. (ticketed event).