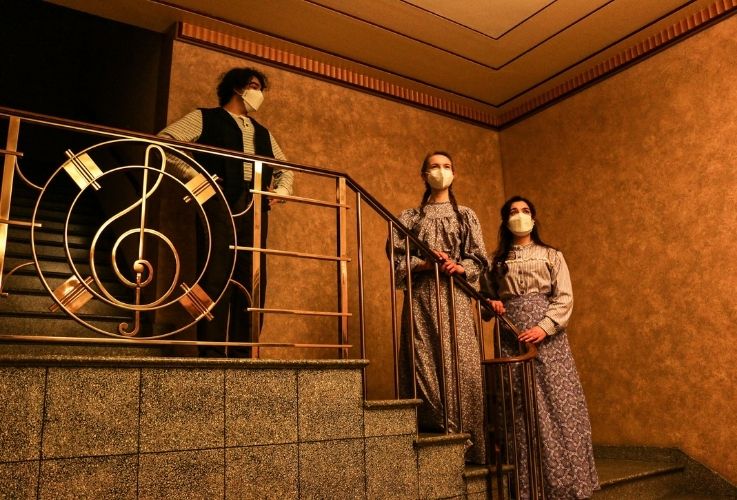 Indiana University of Pennsylvania's Theater-by-the-Grove and Music Theater will present a co-production of the beloved classic Broadway musical Carousel, with music by Richard Rodgers, book and lyrics by Oscar Hammerstein II. This production will take place on March 3 and 4 at 7:30 p.m. in Fisher Auditorium. Tickets are available on sale now online. 
The musical is based on Ferenc Molnar's play Liliom as adapted by Benjamin F. Glazer. Agnes de Mille created the original choreography for the Broadway production.
This production is directed by James Beaudry with music direction by Oliver Lo and choreography by Joan Van Dyke. The IUP Symphony Orchestra is conducted by Alexandra Dee.
Set in 1873 in a small, coastal town in Maine, Carousel begins with the story of Billy Bigelow, a swaggering, carefree carnival barker who falls in love with and marries the sweet but naive millworker Julie Jordan. After the marriage costs them both their jobs, and dwarfed by the immensity of their situation, Billy's tragic effort to provide for his wife leads each of them on a different and difficult path toward forgiveness. Carousel shares a tale of triumph of the human spirit in the face of seemingly impossible odds.
In his notes for the production, the musical's director, James Beaudry shared how "Carousel changed what was possible in musical theater." He noted further, "With Carousel, the musical comedy grew up. 'If I Loved You' erased the boundaries between dialogue and song for the first time. Agnes De Mille's original dances made choreography more integral to the plot than any musical before it. 'You'll Never Walk Alone' became one of the greatest songs of the twentieth century."
Tickets for this event are priced between $12–18 (not including a $3 ticket fee) for all patrons and are available for purchase online. Please note that masks are required for all indoor performances. Access to purchase tickets is available 24 hours a day, seven days a week by visiting the events page of the website and clicking on the chosen performance. Patrons who have questions or need assistance with their order may call the Lively Arts office at 724-357-2787, M–F, 10:00 a.m.–4:00 p.m. for assistance. 
Theater-by-the-Grove and Music Theatre productions are produced by the Department of Music the Department of Theatre, Dance, and Performance and the College of Arts and Humanities. It is funded, in part, by the IUP Student Cooperative Association. The Lively Arts, a program of the College of Arts and Humanities, presents nearly 200 performances, programs, and exhibits annually.