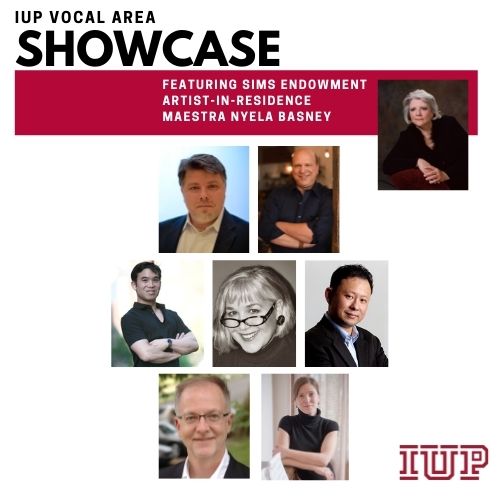 Indiana University of Pennsylvania's voice, choral, and piano faculty will join forces to showcase their talent with two free evenings of music—operatic music on April 1 and art songs on April 2. Both performances begin at 8:00 p.m. and take place in Gorell Recital Hall, located on the second floor of Sutton Hall.
With the generous support of Edward Sims' endowment, Maestra Nyela Basney, an acclaimed opera conductor and pianist, will be an artist-in-residence at Indiana University of Pennsylvania from March 28 to April 2. During her residency, she will be working with IUP students and faculty and performing two joint recitals.  The first recital is entitled Viva Opera and will feature famous opera arias and duets  It will take place on Friday, April 1 at 8:00 p.m. in Gorell Recital Hall. The second recital is entitled An die Musik and will feature art songs from various cultures. It will take place on Saturday, April 2 at 8:00 p.m. in Gorell Recital Hall. Both events are free, unticketed events open to the public.
The IUP Voice/Choral faculty (Mary Logan-Hastings, Joseph Baunoch, Craig Dension, Raquel Winnica-Young, and Oliver Lo) and the dean of the College of Arts and Humanities (Curt Scheib) will all perform in the recitals.
In response to the current warfare, a special performance of "Va, pensiero" (Chorus of the Hebrew Slaves) will be presented for the April 1 recital, featuring Henry Wong-Doe as pianist and Maestra Nyela Basney as conductor.
As the late Edward Sims said, "A program like this would bring a world-class experience straight to the students at their own campus. They need this kind of experience. After all, when they graduate, they will be going out and taking over the world."
This event is free and open to the public. It is an unticketed event. Patrons who have questions may call the Lively Arts office at 724-357-2787, M-F, 10:00 a.m.–4:00 p.m. for assistance. 
These events are produced by the IUP Department of Music and the College of Arts and Humanities. In addition to the support of the Sims Endowment, it is funded, in part, by the IUP Student Cooperative Association. The Lively Arts, a program of the College of the Arts and Humanities, presents nearly 200 performances, programs, and exhibits annually.