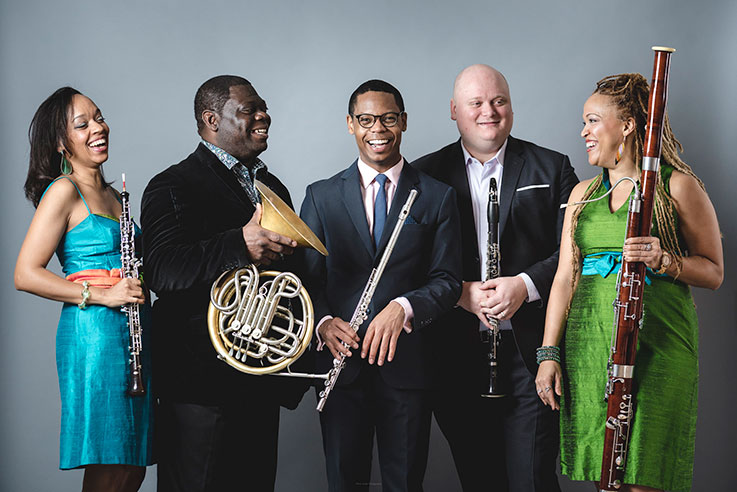 The IUP Libraries and the Lively Arts are teaming up for their first noontime Q&A/Demo of the spring semester by presenting the Imani Winds from noon to 1:00 p.m. on Thursday, January 30, in the Commons of Stapleton Library, next to Java City. This free event is open to all faculty, staff, students, and members of the IUP community.

The Imani Winds is a traditional woodwind quintet that is anything but traditional. Over the course of their 20-plus year career, the Grammy-nominated ensemble has discovered what audiences value most from their concerts: a sense of connection with the music, the performers, the composers, the artistry, and beyond. This concept of connectivity has led them to program not only music from the traditional chamber music canon, but also concerts that reach beyond the usual boundaries of the recital stage.
They adhere to their mission of expanding the wind quintet repertoire by regularly commissioning new music and seamlessly navigating between classical, jazz, and world music idioms.

Extolled by the Philadelphia Inquirer as "what triumph sounds like," the Imani Winds has created a distinct presence in the classical music world through their dynamic playing, culturally relevant programming, and virtuosic collaborations.
As part of their focus on education, they will also be working with high school-age wind and brass students who will be at IUP at the same time to participate in District Orchestra music festival for the District III region.
Their full performance takes place at 8:00 p.m. in Gorell Recital Hall on Thursday evening, January 30. For more information on the noontime event or the evening performance, contact the Lively Arts at lively-arts@iup.edu, or at 724-357-2787 (ARTS).
Tickets for the evening performance may be purchased in person at the Performing Arts Center Box office from noon to 5:00 p.m. M-F; online through IUP Tickets; or at the door the night of the performance.