Physical Education and Sport, BS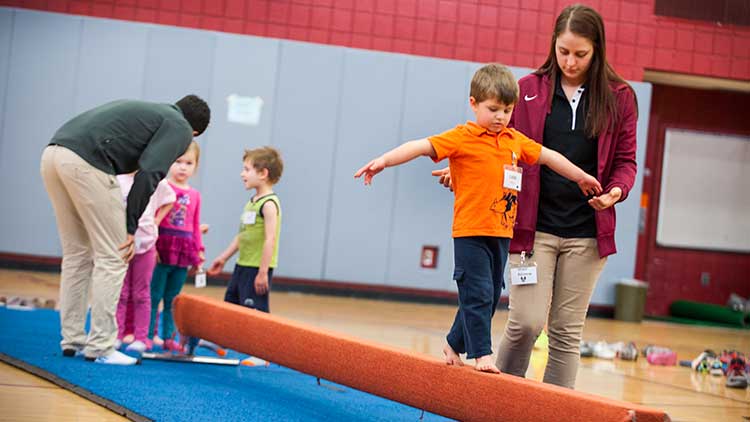 Triumph Over the Competition in the Job Market: Build Academic Muscle
As a physical education and sport major at Indiana University of Pennsylvania, you'll find a curriculum that offers you the training you'll need to be successful in sports and fitness-related professions. This degree provides greater emphasis on sport science subject matter/content and less on pedagogy. Students who select this degree program generally apply their knowledge in the areas of exercise science, community and corporate fitness, cardiac rehabilitation, sports medicine, sport industry management, and/or executive fitness programming.
The physical education and sport degree program is a nonteacher certification program. Students pursuing this degree may be required to obtain certain clearances before beginning the preprofessional experience, the internship, or any other clinical experience on or off campus.
Through your major, you'll take courses such as Prevention and Care of Injuries to the Physically Active, Human Structure and Function, Physiology of Exercise, Aerobic Fitness, Biomechanics, Physiological Basis of Strength Training, and Water Safety Instruction.
Many scholar-athletes at IUP combine their studies with their interest in sports. A Division II school, IUP is a respected competitor in the Pennsylvania State Athletic Conference in eight varsity sports for men and 11 for women. IUP also offers a variety of club and intramural sports.
Admission to this program, one of six bachelor's degree programs offered by IUP's Department of Kinesiology, Health, and Sport Science, is by permission of your advisor.
What You'll Become
The Bachelor of Science degree in Physical Education and Sport prepares you for a career in exercise science, community and corporate fitness, cardiac rehabilitation, sport industry management, and executive fitness programming. This program does not lead to certification as a teacher in schools.
Course content is focused toward specific professions, as well as toward different national credentialing possibilities. Student internships and preprofessional experiences can be more appropriately focused to enhance opportunities for postgraduate employment. Furthermore, these programs provide emphasis in specific subject content areas and teach skills necessary for students to assume leadership roles in careers related to the health and sport science industries.