K-12 Teacher Education, Health and Physical Education, BSEd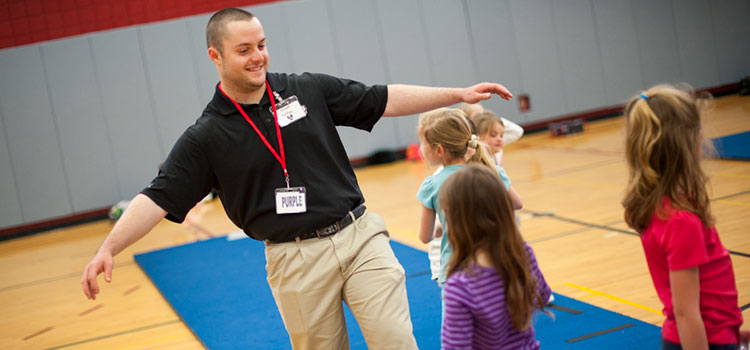 Teacher Candidates Know the Value of a Great Training Program
As a health and physical education major at Indiana University of Pennsylvania, you'll find that our curriculum offers you the thorough training you'll need for success as a teacher.
Comprehensive Curriculum
Through your major, you'll take courses in the physiology of exercise, water safety instruction, biomechanics, motor behavior, health science instruction, and school law.
Strengthen Your Teaching Skills and Résumé with SNAP
The Special Needs Activity Program at IUP offers physical fitness, motor development, and aquatics activities for individuals with disabilities. It is a required practicum experience for all health and physical education students and a great opportunity for community service.
Opportunities to Continue Your Sports
Many scholar-athletes at IUP combine their studies with their interest in sports. A Division II school, IUP is a respected competitor within the Pennsylvania State Athletic Conference in eight varsity sports for men and 11 for women. IUP also offers a variety of club and intramural sports.
Prepare for Pennsylvania Teacher Certification
The Bachelor of Science degree in Health and Physical Education leads to Pre-K to 12 teacher certification in Pennsylvania. Teaching can be very rewarding. In your career, you'll have the chance to introduce children to fitness concepts and health topics.
Bachelor of Science in Education - Health and Physical Education/K-12 Teacher Education (*)
| | | |
| --- | --- | --- |
| Liberal Studies: As outlined in Liberal Studies section with the 43 credits following specifications: | | 43 |
| Mathematics: MATH 110 (must be approved as Liberal Studies Mathematics courses) | | |
| Natural Science: one lab science and one non-lab science | | |
| Social Science: PSYC 101 | | |
| Liberal Studies Electives: 3 credits, MATH 217, no course with KHSS prefix | | |
| | | |
| Major: | | (1)19 |
| Required Courses: | | |
| KHSS 135 | Careers in Kinesiology, Health, and Sport | 1cr |
| KHSS 209 | Motor Behavior | 3cr |
| KHSS 221 | Human Structure and Function | 3cr |
| KHSS 315 | Biomechanics | 3cr |
| KHSS 341 | Evaluations and Analytics in Kinesiology | 3cr |
| KHSS 343  | Physiology of Exercise | 3cr |
| KHSS 442 | Senior Seminar | 3cr |
| | | |
| | | |
| Professional Requirements: | | 27 |
| Health and Physical Education: | | |
| KHSS 213 | Recreational Sports and Lifetime Activities | 3cr |
| KHSS 216 | Instruction of Fundamental Movement Skills | 3cr |
| KHSS 218 | Instruction of Tactical Skills and Fitness Concepts | 3cr |
| KHSS 316 | Instruction of Child Health Concepts | 3cr |
| KHSS 325 | Schooland Community Health | 3cr |
| KHSS 344 | Adapted Health and Physical Activity | 3cr |
| KHSS 417 | Contemporary Issues in School and Community Health | 3cr |
| KHSS 419 | Emergency Care and Water Safety | 3cr |
| KHSS 426 | Health Science Instruction | 3cr |
| | | |
| | | |
| College:  | | 23 |
| Preprofessional Education Requirements: | | |
| ETIT 103 | Digital Instructional Technology | 3cr |
| EDEX 323 | Instruction of English Language Learners with Special Needs | 2cr |
| EDSP 102 | Educational Psychology | 3cr |
| Professional Education Requirements: | | |
| EDUC 242 | Pre-student Teaching Clinical Experience I | 1cr |
| EDUC 342 | Pre-student Teaching Clinical Experience II | 1cr |
| EDUC 421 | Student Teaching | 6cr |
| EDUC 441 | Student Teaching | 6cr |
| EDUC 442 | School Law | 1cr |
| | | |
| Free Electives | | 8cr |
| Total Credits | | 120cr |