Michele Papakie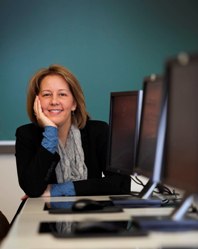 Department chairwoman Michele Papakiea 1993 alumna of the Indiana University of Pennsylvania Journalism Departmentreturned to her undergraduate alma mater in spring 2007 as a faculty member. She brought with her 20 years of experience in journalism and public relations, and she enthusiastically shares it with all of her students.

Her work experience includes time spent in the following positions: reporter for Gateway Publications; client liaison for a strategic planning company; public relations coordinator for Chartiers Valley School District; public information officer for the City of Pittsburgh Bureau of Police; adjunct instructor of communications at Robert Morris University; and director of public affairs for California University of Pennsylvania.

Papakie is also a lieutenant colonel in the 171st Air Refueling Wing of the Pennsylvania Air National Guard. Although she has spent her entire careernearly three decadesas a traditional guard member (reservist) in Pittsburgh, her service has taken her to at least a dozen countries and more than half of the United States. She has served as the unit's public affairs officer, equal opportunity officer, and today as the wing's inspector general. In 2010, she served a six-month tour in Bagram, Afghanistan, in support of Operation Enduring Freedom, as a Sexual Assault Prevention and Response program manager.

In February 2015, she was awarded the prestigious Octavius V Catto Award by the Pennsylvania National Guard for outstanding public service. Catto was a Civil War-era Pennsylvania militia officer who was killed in Philadelphia in 1871 while on duty defending African-Americans at polling places by those who opposed their right to vote. He was a professor at the Institute for Colored Youth (now Cheyney University) and a community leader who led desegregation efforts in Philadelphia in the 1860s.

In 2014-15, Papakie was honored for her service as one of 12 of the region's most distinguished veterans. Her photo, story, and oral history were featured at an exhibit in Pittsburgh's Lantern Building, located at 600 Liberty Avenue, from November 2014 through March 2015.

Also in 2014, Papakie was named Outstanding Business Communicator of the Year by the Pittsburgh chapter of the International Association of Business Communicators.

At IUP, Papakie teaches courses such as Writing for Media, Presentation Making, Problem Solving in PR, Entertainment PR, Journalism and Mass Media, Public Relations Campaigns, and History of the American Press. She also serves as the faculty adviser to five clubs on campus: IUP's chapter of the international organization Public Relations Student Society of America, Her Campus, Chi Upsilon, Sigma Kappa, and IUP Inline Hockey.

Each summer, she teaches a two-week journalism and public relations workshop for high school students as part of IUP's Summer Honors Program.

In her community, Papakie serves as an elected township supervisor, volunteers at the Alice Paul Housea domestic violence shelterand is the education officer of Indiana's chapter of Toastmasters International.

Papakie earned her Master of Arts degree in regional planning at California University of Pennsylvania in 1996 and her Doctor of Science degree in communication and information systems from Robert Morris University in 2002.
Fall 2020 Office Hours
Monday-Friday: 8:00-9:00 a.m. and by appointment, via Zoom