Randy Jesick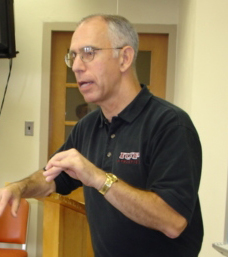 Randy Jesick began teaching Journalism at Indiana University of Pennsylvania in 1979, following 10 years as a public relations professional at IUP. His positions included director of public information and sports information director.

He began his journalism career by working for three years for sports publicist Beano Cook while studying for his bachelor's degree at Pitt. After earning his master's in journalism at West Virginia University, Jesick served at Fort Wadsworth, New York, for two years as an information officer with the US Army. He also worked in sports communications at Southern Illinois University, Carbondale,before joining the IUP Public Relations Department in 1969.

Jesick earned his AB in Geography at the University of Pittsburgh in 1964 and his MS in Journalism from West Virginia University in 1966.

He teaches the following courses:

Basic Journalistic Skills
Journalistic Writing
Writing for the Print Media
Sports Journalism
Public Relations I
Public Relations II
"What makes the IUP Journalism Department different? Special? Better? In my opinion, the best quality of our department isand always has beenthe personal attention that our majors, and all the students enrolled in our courses, receive,"he said.

"Our majors have ongoing and emphasized opportunity to interact with their professors in matters concerning course work, internships, career opportunities, scheduling matters, and many other vital areas of information and help. And they can, if they choose, take advantage of the closeness that our department possesses time and time again. Our students can get all the help they needand even do it on a first-name basis with their teachers. So there is a level of comfort that, I believe, most of our majors experience and enjoy while they work through their undergraduate years. This atmosphererare today at many colleges and universitiesexists because of the professional interest that each of our faculty has in the potential of all of our students."

Fall 2020 Office Hours

Monday/Wednesday: 1:30-3:00 p.m.
Tuesday/Thursday: 1:00-2:00 p.m.