Web 2.0 and IUP Software for E-learning
Instructional Design Services completed a survey of our faculty to see what services or information interested them. There was a high level of interest in learning more about other educational technologies or Web 2.0.
Research shows that Web 2.0 technologies can help encourage optimal learning experiences, engage students, support effective communication, and promote problem-solving. We must remember that, when choosing any tool to use in the classroom, we must keep the student uppermost in our minds. There are helpful checklists to assist instructors with choosing any software for their course. For example, Checklist for Evaluating Tech Tools, Apps, Software, and Hardware by Tech Pudding and iRubric: Evaluation of Web 2.0 Tools rubric by Rcampus.
To that end, IDS would like to share information regarding several common Web 2.0 tools. IDS cannot support these tools, nor does IT Services. This material is for your information only.
Web 2.0 software for e-learning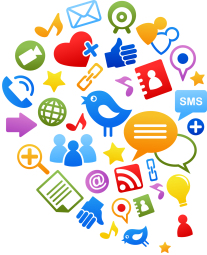 VoiceThread—VoiceThread is a learning tool for enhancing student engagement and online presence. Create, share, and comment on images, Microsoft PowerPoint presentations, videos, audio files, documents, and PDFs using a microphone, webcam, text, phone, and audio-file upload.
Flipgrid—Flipgrid is the leading video discussion platform for everyone. Students can create videos and collaborate with peers. Instructors moderate lessons using video moderation and access controls.
Poll Everywhere for PowerPoint, Keynote, or Google Slides—Poll Everywhere transforms one-sided presentations into two-way conversations with the audience. This web-based audience response system lets you embed interactive activities directly into your presentation.
LiveBinders—Using LiveBinders, you can organize your course materials in an online ebinder and go paperless. It offers opportunities for collaborating, organizing, and sharing resources. LiveBinders helps to gather a variety of online resources in one place.
edpuzzle—Create interactive video for your lessons. Engage students easily and know if your students are watching the videos.
H5P—A free and open-source content collaboration framework. Easy for everyone to create, share, and reuse interactive HTML5 content.
Google Sketchup—SketchUp Free is one of the easiest ways to draw in 3D, from a web browser. Draw, orbit, push-pull: make anything you can imagine.
Google Jamboard - Jamboard is a digital whiteboard that lets you collaborate in real time using a web browser or mobile app. 
Padlet - Padlet is a free, online tool that is best described as an online notice board. Padlet can be used by students and teachers to post notes on a common page. The notes posted by teachers and students can contain links, videos, images, and document files.
IUP Software Tools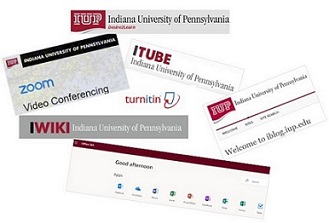 Do not forget that IUP offers many supported applications that can be used similarly to Web 2.0 applications. These tools are not often known by the IUP community. One popular tool used by many is Zoom, our video conference product. Zoom can be used for meeting online or for virtual office hours. There is also Turnitin, with the integration in Brightspace.
Zoom—Zoom is IUP's supported video conferencing service. Zoom unifies cloud video conferencing, simple online meetings, group messaging, and more on an easy-to-use platform. Zoom can expand courses with video communications, increasing student participation and engagement.
IUP Library video databases such as Films on Demand—Video database services deliver high-quality digital video ideal for students and faculty through online catalogs, distance learning courses, and learning management systems. One such database is Films on Demand, a web-based digital video delivery service that allows you to view streaming videos anytime, anywhere, 24/7. Choose from more than 5,500 educational titles in dozens of subject areas.
To access the Films on Demand database, go to the IUP Libraries website and click on the Library Database button. On the IUP Libraries Database page, click on the link for the letter "F." Next, click Films on Demand.
iblog—IUP's blog service. iblog is open to any active faculty, staff, or student at IUP. The service is also available to any class, organization, or department.
iwiki—iwiki is divided into team spaces. Team spaces are designed to allow for easy collaboration, documentation, and discussion of various points a class may need to engage in. Using iwiki allows for collaboration to store meeting notes, documents, and other items.
Office 365 portal—Utilize the online versions of Microsoft Word, PowerPoint, Excel, OneNote, Sway, Forms, and Outlook, and save your files to OneDrive. Install up to five copies of Office 365 for personal use. IUP's Office 365 Portal will give you the opportunity to not only use the online versions of Office 365, but other Microsoft applications such as Forms, Sway, and Tasks.
Adobe Creative Cloud—IUP employees have access to the Adobe Creative Cloud both in their office as well as at home. These powerful tools can assist in areas such as web design, image editing, video editing, graphic and art design, desktop publishing, game development, animation, and much more.
Adobe Captivate—A smart authoring tool that lets you create all kinds of fully responsive eLearning content. Effortlessly design immersive learning experiences with VR and 360 media assets. Amplify video-based learning by easily adding interactivity to your videos. Adobe Captivate can be purchased for you by your department to use on your office device.
Turnitin—IUP's anti-plagiarism service. Turnitin assists instructors in detecting plagiarism in student work and offers information to protect students from plagiarism. Turnitin reviews submitted material for originality of content. Turnitin is fully integrated with Brightspace and can be utilized from the web.
Image Resources
Jacqui Murray, Top 13 Web 2.0 Tools for Classrooms, licensed under CC BY 4.0
IUP Software Tools, by Nancy Evans