Brightspace Work To Do Widget
Work To Do Widget on D2L Home Page
The Work To Do widget provides students a summary of assigned learning activities from all their courses that are overdue or have an upcoming due date. This version of the Work to Do widget is found on the IUP D2L home page.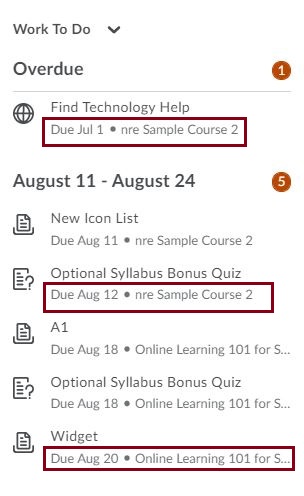 Work To Do Widget on a Course Home Page
The Work To Do widget for a student on their individual course page will aggregate data and will show only due and overdue learning activities from the course.
The Work To Do widget displays the following learning activities:
Assignments
Checklists
Content
Courses
Discussions
Surveys
Quizzes
Learning activities only appear in the Work To Do widget when the activity has a defined due date or end date. By default, the widget displays activities due in the upcoming two weeks, and overdue work from the previous 12 weeks.