Faculty Stars
Professors in the College of Humanities and Social Sciences are active teacher-scholars, engaging their students inside and outside the classroom, while also helping to lead the university and contribute to knowledge in their fields through research.
Serving the Campus Community as Faculty-in-Residence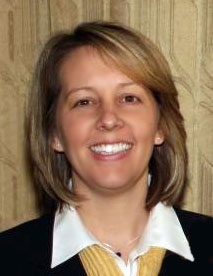 Dr. Michele Papakie, associate professor and chair of the Department of Journalism and Public Relations, has been living in Stephenson Hall during the spring 2019 semester. She is the first faculty-in-residence in the Pennsylvania State System. Her main charge is to assist students with undeclared majors, ultimately improving retention among this student population. She works closely with the community assistants and holds programs that guide students through introspective exercises to match their interests with their skills. She has even resorted to intrusive advising tactics, such as knocking on students' doors in the evenings to engage them in meaningful conversations.
Shedding Light on Medieval Islam
Dr. Christine Baker, associate professor of History, published the book Medieval Islamic Sectarianism, with Arc Humanities Press, 2019.This book asks readers to re-examine their view of the Islamic world and the development of sectarianism in the Middle East by shining a light on the complexity and diversity of early Islamic society. The focus here is on the 10th century, a period in Middle Eastern history that has often been referred to as the "Shi'i Century," when two Shi'i dynasties rose to power: the Fatimids of North Africa and the Buyids of Iraq and Iran. Historians often call the period after the Shi'i Century the Sunni Revival," because that was when Sunni control was restoredbut these terms present a misleading image of a unified medieval Islam that was predominately Sunni. While Sunni Islam eventually became politically and numerically dominant, Sunni and Shi'i identities took centuries to develop as independent communities. When modern discussions of sectarianism in the Middle East reduce these identities to a 1,400-year war between Sunnis and Shi'is, we create a false narrative.
Historicizing Theory in English and the Humanities
Dr. David Downing, Distinguished University Professor of English, publishedJust Theory: An Alternative History of the Western Tradition, in 2019 with the National Council of Teachers of English.His book offers an alternative history of critical theory in the context of the birth and transformation of the Western philosophical tradition. While focusing on the quest for social justice, Downing situates two cultural turns within deep time: Cultural Turn 1 gave birth to the Western philosophical tradition during the Holocene; Cultural Turn 2 witnessed the beginnings of the shift to the Anthropocene when the Industrial Revolution and the fossil fuel age began to alter our complex biospheres and geospheres. As described in the epilogue, the aftereffects of Western metaphysics have dramatically shaped our 21st-century world, especially for teachers and scholars in English and the humanities.