In spring 2020, applications were accepted for the Faculty-in-Residence program. We are pleased to announce our participating faculty members for 2020-21: Michele Papakie from the Department of Journalism and Public Relations and Holly Boda-Sutton from the Department of Theatre, Dance, and Performance. As FIRs, they will live alongside students in campus residence halls, modeling the crossroads of intellectual and student development in dynamic living-learning communities.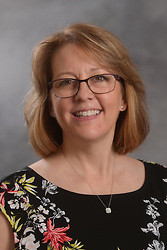 In addition to living in the residence halls and interacting informally with students, Papakie and Boda-Sutton have their own plans on partnering with Residence Life staff to create a shared experience in a supportive and inclusive residential environment that fosters intellectual and personal development, well-being, and a sense of belonging and connection. In her application, Papakie proposed to start a Toastmasters International Club in the residence halls, a professional development series, and a wellness challenge. Boda-Sutton has used her arts background to develop a series of formal and informal thought-provoking educational programs focusing on students' wellness, belonging, collaborative learning, and global awareness.
Boda-Sutton is looking forward to starting this new adventure in working with Residence Life staff and Papakie. Additionally, this will be the second time for Papakie to serve in the role of FIR. She is very excited to do this again. Being a Faculty-in-Residence "was the most fun, exciting, and challenging thing I have ever done, and I grew tremendously as a professor," said Papakie.
Both professors bring their passion and enthusiasm for experiential learning through their engagement with students. They are excited to become part of the immersive experience as FIRs starting in fall 2020 and look forward to living and learning with our residential students!
To learn more about the Faculty-in-Residence initiative hosted by the Office of Housing, Residence Life, and Dining, please email Li Teng, assistant director for living-learning, at teng@iup.edu.