Student Story: Holly Kresge, HistoryPre-Law Major
Holly Kresge is a junior majoring in history/pre-law at IUP. She has also a member of the Cook Honors College. Holly is from New Bloomfield in Perry County, Pa., outside of Harrisburg.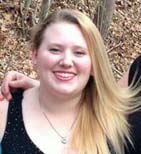 Kresge looked at a lot of schools when she was a senior in high school, but decided to come to IUP for the Honors College, saying she "wanted the benefit on attending a small college within a larger university. I wanted to partially keep my anonymity while also developing friendships that could last past my four years at the university. It also helped that IUP was cheaper than the private schools close to home and the Honors College gave me a small scholarship."\
She decided to major in history because she has always wanted to be a lawyer, which comes from her love of debate and arguing (and also crime shows!). She hopes that becoming a lawyer will allow her to help others. Her history major helps her prepare for law school because, as she says, "the skills you learn in history classes are perfect to apply to other disciplines, including the law."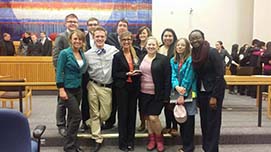 Kresge has learned a lot in her history classes: "Many of the history classes I've taken so far have consisted of building and utilizing analytic and writing skills, something vital for any career goal. My formal writing skills have never been so frequently used nor as honed as they are today. History classes consistently require analytic reading skills in order for students to be able to understand the historical significance of any event. I have taken about seven history courses during my two years here at IUP in which we have covered a huge range of historical time periods, events, and themes.
"The flexibility of the skills I have gained is incomparable. Now, I can easily examine themes and signifiers in time periods in the 10th century and earlier as well as current events. Hardly any other major can compare you for this. The skills I learned are incredibly flexible and extend easily into classes in other disciplines also. I've used the skills I gained in my history classes in psychology, biology, English, political science, as well as many others. That's the great thing about the history classes: the skills are transferable to everything."
Kresge has been an incredibly active student at IUP. She's involved in Mock Trial Club, Whitmyre's Residence Hall Council, History Club, and Honors Connection.
Mock Trial has played a massive role in her development as a student and a person. As a freshman, she played a "witness" in the American Mock Trial Association's regional competition. This was the first time she'd ever been involved in a compassion like thatthey competed against teams like Howard University, John Hopkins, and Carnegie Mellon. She became the secretary of the Mock Trial club in the spring of her freshman year and then, in her sophomore year, she was elected vice president of the club. According to Kresge, "Mock Trial has tremendously helped with my planned career. It gave me a look inside of how real lawyers prepare for trials. Additionally, the club is really like a family. Many of them are upperclassmen who have already taken the LSAT and applied for law schools. Their advice, which I may not have been able to access without the club, is priceless when preparing for my future."
Due to her goal of attending law school, Kresge is also involved in IUP's Pre-Law Society, which helps students prepare for the LSAT and applying to law schools. In addition, the club invites lawyers and judges as guest speakers to give students different perspectives on the law school process. According to Kresge, "Pre-Law Society really helps add the community of law school-driven students on campus. If it weren't for Pre-Law Society or Mock Trial, I would feel much more isolated and less driven to pursue my ultimate career goals in the legal profession."
She is also involved in Honors Connection, a club that plans and organizes events to promote fun and social wellness among Cook Honors College students on IUP's campus. According to Kresge, this has "greatly developed my communication skills with others, especially those who are uncooperative or difficult to work with. Additionally, it has significantly aided the development of my preparation skills."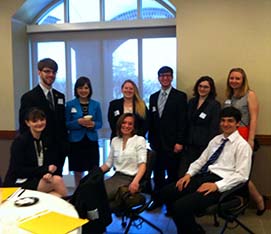 After graduation, Kresge plans to go to law school, with a possible focus on governmental law or criminal law. Her biggest advice to incoming students is to "Find your passion." If you're majoring in history, "study a bunch of different time periods and areas of the world. You might find your niche somewhere you never expected. And, most importantly, build relationships with your professors. You never know the kinds of opportunities that could arise simply because you know someone who knows someone. Because I took a class with Dr. Arpaia and built a good relationship with him, I had the opportunity to have dinner with a Holocaust survivor. Plus, professors were once in college; they can help you figure out where you want to go after school!"