Alumni Story: Rebecca Lingenfelter, Asst. VP at Indiana First Bank
Rebecca Lingenfelter is an IUP history graduate who is currently the assistant vice president, BSA compliance specialist, and internal audit coordinator at Indiana First Savings Bank.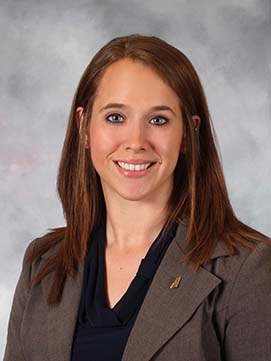 Lingenfelter graduated in 2009 from IUP with her bachelor's in history and a minor in music focusing on the flute. When she first came to IUP, she wanted to major in music education in order to share her love of music with others. As a freshman, she took HIST 195 with Dr. Paul Arpaia where, Lingenfelter says, "I loved the way [Dr. Arpaia] taught class and his willingness to help his students. I began speaking with him and, before I knew it, I was a social studies education major. I requested him as my advisor and when I struggled to finish college in four years and obtain my minor, he was supportive of my decision to solely focus on the BA in History. He helped me weigh my options, and we discussed it at length."
While Lingenfelter was a student, she had a work study position in the Media Relations department at IUP. In March 2009, just before her graduation in May 2009, she started working as a teller at Indiana First Bank. She quickly moved up the ranks, being promoted to head teller at the Punxsutawney Office in fall 2010, then shifting into customer service in 2011. Finally, she became a BSA administrator and compliance specialist in 2011-12, which led to her promotion to assistant vice president, BSA compliance specialist, and internal audit coordinator.
For those of us not in banking, the BSA is the " Bank Secrecy Act of 1970." This act requires U.S. banks to help government agencies find and prevent money laundering by keeping detailed records and reporting any suspicious activity that might signify money laundering, tax evasion, or other criminal activities.
In her job at Indiana First Bank, Lingenfelter is responsible for coordinating internal bank audits, maintaining and reviewing bank policy, and ensuring compliance to the Bank Secrecy Act and the USA Patriot Act. Her job requires research, analysis, and synthesis of a variety of types of information in order to mitigate risk to the bank and prevent fraud.
According to Lingenfelter, her skills lie in "organization, processes, fraud prevention, regulatory review, and risk analysis." While she learned the specifics of the banking industry on the job, she learned many of the skills she needs for her jobs while studying history as an undergraduate.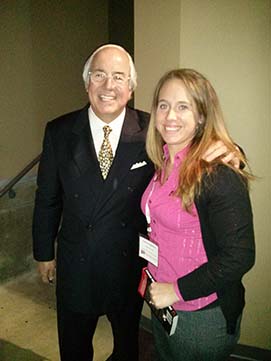 In her own words: "I believe studying different time periods with different professors teaches one to use and develop different analytical and investigative skills.[M]any aspects of my current job allow me to think critically, analyze data, and investigate in a clearer fashion. I wholeheartedly feel my degree and time spent in Keith Hall with many different professors has helped me get where I am today."
Of course, in her last semester, she wasn't sure exactly what she'd do. Many of her colleagues went on to MA and PhD programs, but she wasn't sure that that's what she wanted to do. But she had a job at Indiana First Bank that she enjoyed, and it was many of the skills that she learned as a history major in college that allowed her to move up in her job at the bank to the assistant vice president position that she now holds six years after she graduated from college.
Studying history has also been a key part of her success, and Lingelfelter wants to encourage students who like history to study history.
"Often times there is a stereotype about where history's place' is in life, and many see it as just in a classroom. I don't believe this is the case.... It takes a lot of time studying in and out of class, as well as additional thought into what parts of the study of history interest an individual. I have my own favorite time periods (Europe WWII and Cold War Era U.S. to name a few), but it's also about the skills you obtain while studying what you enjoy. I'd say stick with it, because you have no idea where you'll end up."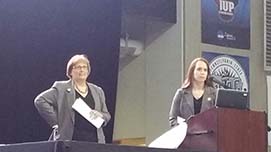 Are you an IUP alumni who majored in history and loves your current job? Get in touch with the department! E-mail Dr. Christine Baker and let the department know what you're up to!