Alumni Story: Amy Marsella, Initiative Assistant
Amy Marsella is a recent IUP history graduate who is currently an "initiative assistant" at the Rodel Foundation of Arizona, a nonprofit organization focused on improving Arizona public schools.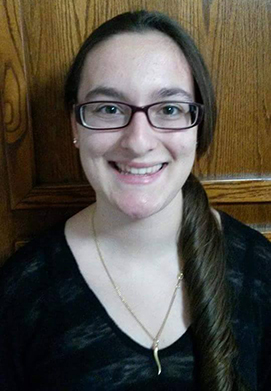 Amy graduated in May 2015 with her bachelor's degree in History. When she first came to IUP, she didn't really know what she wanted to study. History wasn't actually a subject that she enjoyed much in high school, with the exception of her 10th-grade class. But, she decided to try Dr. Moore's History of Western Civilization Before 1600 (HIST 201) because she really liked historical documentaries. And, as she says: "After Dr. Moore's class, I knew I wanted to stay in the program. I focused on ancient and medieval history and I really enjoyed it. Farther into the program I discovered I really enjoyed archiving and curatorial work."
But she wasn't always very sure about how she would use her history degree in her future career. When she first started applying for jobs, she wasn't sure where to start. She was relocating to Arizona and didn't have any connections in the state. But she e-mailed the director of the Heard Museum about upcoming positions. While he didn't have any, he gave her some more leads on places where Arizona museums posted about job openings. According to Amy, "I e-mailed almost every director or curator or HR person in all the museums I could find around Phoenix. Every single one of them told me no, but a lot of them directed me to websites where I could find museum job listings." This eventually paid offAmy found her first post-college job through an Arizona State University nonprofit job board.
The Rodel Foundation of Arizona, where Amy currently works, is a nonprofit organization with the goal of improving the Arizona public schools so they are the best in the nation by 2020. Amy's job focuses on assisting one of their initiatives focused on math education. According to Amy, "I do everything from data entry to making copies to ordering supplies for the training and lectures. I really enjoy what I'm doing. A lot of the skills I use at this job are skills I picked up in my various classes. How to organize and inventory accurately I learned from Dr. Mazak-Kahne. How to take notes during a very fast meeting I learned from taking notes while Dr. Schroeder lectured. I use skills from my major every day even if it is not obvious."
Amy's future goal is to find a job doing archival or curatorial work. She was inspired to go in this direction from the Museum Studies classes she took in the History Department. While in her current job, she's been trying to learn more about the broader world of Arizona education: "I try and keep up with the news and learn about a person in the Arizona education world at least once a day. I have a list on my desk of the names I should know."
While she was at IUP, Amy was the president of the History Club. She also notes that this experience helped her prepare for her current job and gave her a clearer idea of what she wanted to do: "Planning the events and managing the people was so much fun, even if sometimes it gave me a headache."
Amy's advice for current and prospective students is to get as involved as possible at IUP and do lots of different things: "All I can say is stick with it, and learn as much as you possibly can. Don't focus just on history, but combine it with anthropology or different programs. History can be used in so many fields, if you know what you are doing. Make yourself valuable once you figure out what you want to do. Never stop learning things. Be a smartass when it is appropriate."