Alumnus Branin Returns to IUP as Official "It's On Us" Trainer
Posted on 11/15/21 9:50 AM
On Tuesday, November 2, IUP welcomed recent graduate Adrianna Branin (religious studies, political science double major, class of '21), who gave a presentation, "Intimate Partner Violence Training." Branin works as the assistant director of training for the national It's On Us program.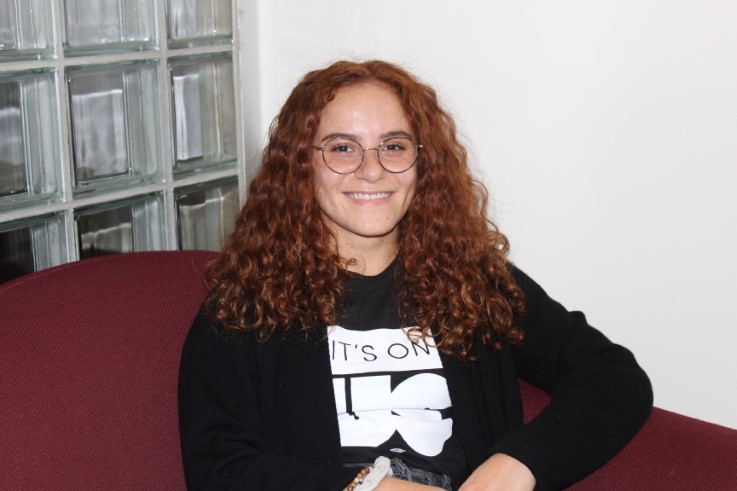 The well-attended training was broken down into two sections. The first half was a review of intimate partner violence by helping attendees identify the nine signs of partner abuse through a PowerPoint presentation and video produced by the Yves Saint Laurent Company, which sponsors the national It's On Us campaign. 
The second half of the training focused on intervention. Attendees practiced how to recognize the signs of abuse in their everyday lives and interactions. Branin adopted several interactive methods to involve the audience, including watching film clips depicting abusive situations. Participants then identified the troubling behaviors they saw modeled on the screen. Overall, attendees learned how media can often normalize harmful behaviors and how that may affect our ability to identify and intervene in destructive situations.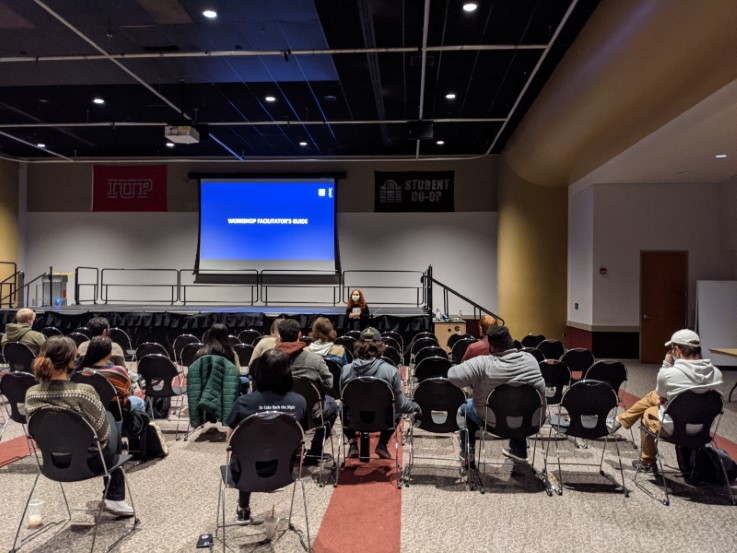 Besides providing impactful training for participants, Tuesday also allowed a pause for Branin to reflect on her time at IUP, her professional career, and what it was like to be a recipient of the Biden Courage Award (which she won in 2019).
Branin remarked, "For five years, I was fortunate to be working for the Haven Project at IUP. I became a peer educator when I was a freshman, which was one of the first things I did at IUP. I helped to shape the Haven Project, as it was just starting, separating from Health Awareness. So, it was a lot of creating presentations, creating flyers, getting out there, organizing with students, and figuring out how to organize Take Back the Night and RAINN Day. I had a crash course in learning how to program for students. I wouldn't have my job if it weren't for the experiences I gained from working with IUP's Haven Project." 
Clinical Case Manager Susan Graham was Branin's first supervisor at IUP.  On working with Branin at IUP, Graham said, "I hired Adrianna in her first semester at IUP as a first-year student. She had incredible passion and enthusiasm for the Haven Project's topics. It has been such a pleasure watching her grow and develop as a presenter over her years at IUP. She has been an innovator as a peer mentor at Haven, coming up with new and creative ideas for programming for our campus community."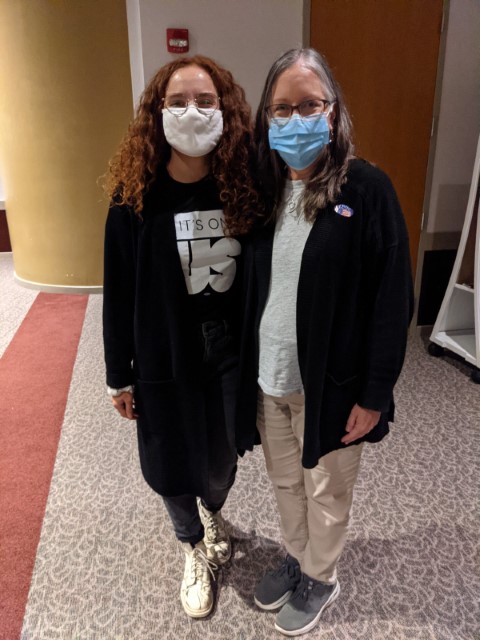 Graham, who attended Branin's presentation, remarked, "Watching her present at IUP for It's On Us made me so proud! Adrianna had such a positive impact here, and I can't wait to see the broader impact she will have with It's On Us. I am so pleased to be able to share one of our talented IUP alumni with the world."
With a change in roles for Graham and more visibility of the Green Dot Bystander Intervention Program, Branin's supervisor switched to Jennifer McCroskey (sexual violence prevention eucator for the Haven Project, certified Green Dot bystander intervention trainer, and IUP Green Dot coordinator).
McCroskey reflected on her time as Branin's supervisor, as well as her presentation, saying, "Adrianna was a dynamic presenter filled with passion and knowledge surrounding Haven Project topics. At IUP and in Haven, she trained all of Greek Life through Greek 101 in Green Dot Bystander Intervention. Adrianna helped shape the Green Dot program on IUP's campus and build it into a recognizable program that encourages everyone to participate to make the campus a safer place for all. We are proud to see her excelling in her role as assistant director of trainings at It's On Us."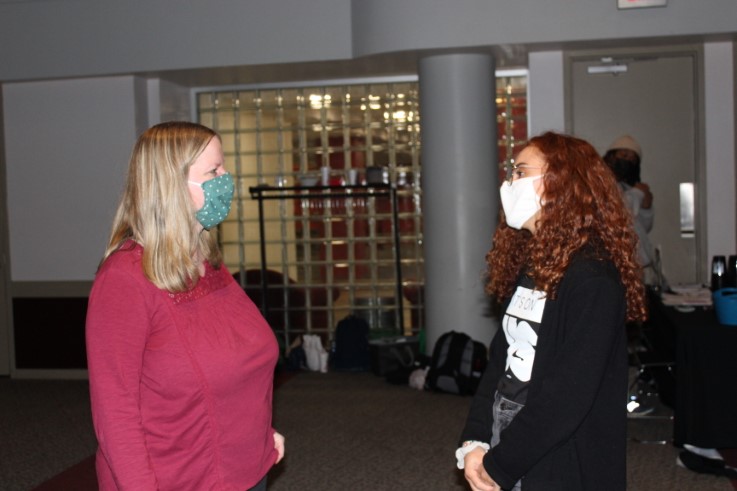 Branin's experience working with Graham and McCroskey at IUP prepped her for her current role with It's On Us. Branin directly attributes her experience at IUP to securing her job. Branin said, "I had a crash course in campus organizing and how to train students. Everything I learned in those five years applies to my job now, which I wouldn't have if I didn't have that experience with the Haven Project in the first place."
Branin also gives a lot of credit to IUP for having the Haven Project. Branin stated, "The Haven Project is incredibly unique. Through my job, I've been able to go to larger universities than IUP; these institutions have more money and a much larger student population. IUP's Haven Project is insanely unique in that there is a designated department dedicated to sexual violence prevention. Most students who I come across in my work would love for this sort of opportunity to be offered from their university; one that provides experience and compensation related to this field. IUP is incredibly rare. It is important to understand how vital it is to have this kind of department at IUP. I don't think that many folks recognize its uniqueness. The Haven Project is a 'normal' part of IUP's programming and service landscape, but I want people to know that it is exceptional. I hope that never changes."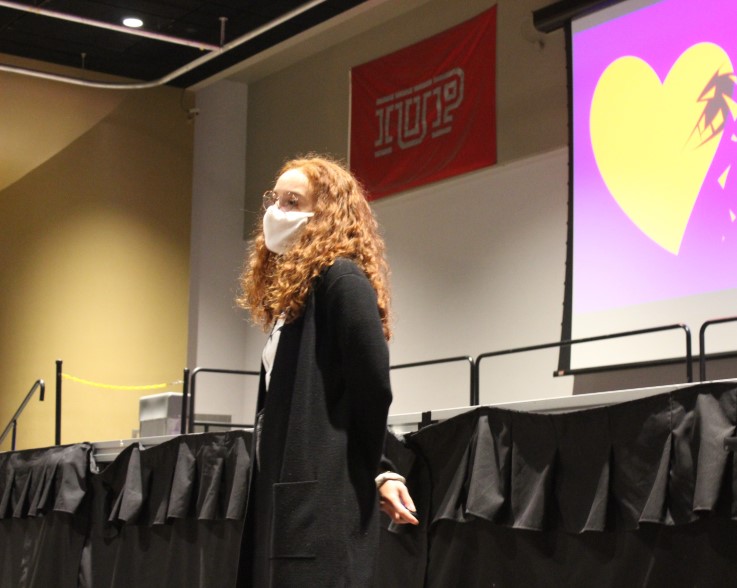 Many IUP staff, faculty, and students may recognize Branin from a few years ago when she won the national Biden Courage Award in 2019. Branin reflected on winning the prestigious award, saying, "So, I won the 2019 Biden Courage Award alongside one other person. We both won the award because we had stopped sexual violence on campus. Specifically, in 2018, I went to a party. After the party shut down, I was going home and sadly saw a woman who had accidentally become exposed and was being taken advantage of by several men. In the flash of the moment, I ran up and separated the intoxicated woman from them and took her back to her home. After taking care of her, I ran back to the scene of the incident. I tried to find every man I could who was involved and threatened them that if they had any photos or videos of the woman and shared them, they were monsters and cruel. I told them that they were predators and that I would be reporting them to Title IX. I don't think anything ever came from that; the photos or possible videos that were taken of that girl were never put online. But after I told Title IX and I told my boss, Susan Graham, I didn't really think much about it. I thought of it as just another night when I helped somebody in a way that I would have wanted someone to help me."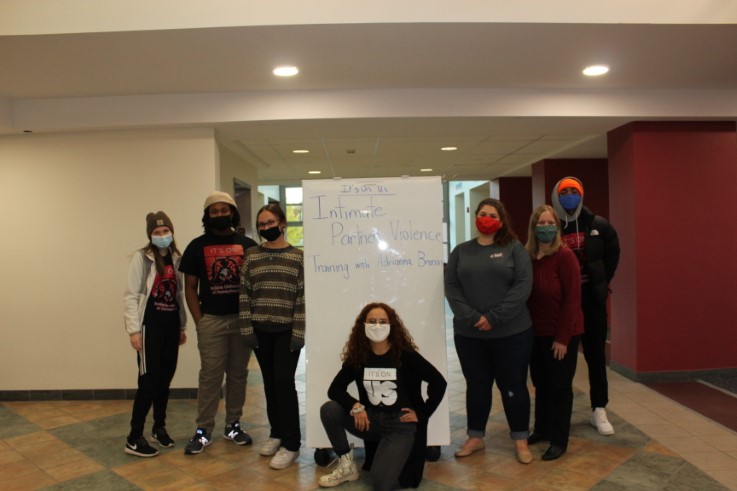 Branin's supervisor at the time of the incident, Susan Graham, nominated Branin for the award. Branin continued, "Susan had received an email from It's On Us indicating that they were looking for nominees who had stopped sexual assault on their college campus to win the Biden Courage Award. Susan nominated me. And after several phone calls and meetings, I thought that they were probably not going to choose me. The previous year's award winner was shot twice during their attempt to stop sexual violence, so I thought, 'I got out of it unscathed. I did something that I felt like anybody else would have done if they were in that position.' So, I couldn't imagine that I would be considered to win the award, but I did end up winning."
When reflecting on meeting President Biden (who was then the former vice president), Branin said, "It was wonderful. He (President Biden) saw me and was incredibly warm and took me by the shoulder and picked me up and said, 'You should be 6'4" and 220 pounds for what you did,' and I just felt incredibly stunned and happy. We got to have a conversation about the impact that men can have on this field. Understanding their part and their responsibility to be active bystanders is incredibly important in order to have their voices involved.  Having men present in these conversations is vital. And I was so delighted to talk to him about my experience with that by trying to engage and communicate with men and bringing them into this field in which a lot of the time they feel like they're being blamed, or they're being targeted as the predators and not as somebody that can help assist in ending violence on their campus."
Branin has some advice to share for current IUP students. In closing, Branin said, "Anyone can do this work. Being a good person and caring about others is not something revolutionary by any means. I can honestly say that I had several moments at IUP in which I had to be an active bystander just because I went out. I enjoyed our social life. I enjoyed partying when I was a freshman and a sophomore, but sometimes I saw people in vulnerable states being taken advantage of. If you want to be involved and be a good member of your community, you need to take action. In those moments, you need to notice that somebody is uncomfortable and that they need your help, and you need to actively give it to them. It doesn't take you having to, you know, push through a huge crowd of people to save somebody, even though I hope that if you see something like that, you could do something like I did. But it is the smaller things that make a huge impact. If somebody is lost, help them find their way.  If someone needs walked home, walk them home. If someone's phone has died and they need you to help them call their friends, that is being an active bystander. It doesn't necessarily have to put you in harm's way to help others. People always think of it as 'I'm putting myself in harm's way. I'm going to end up in a violent situation possibly.' But honestly, most of the time, it's just being a good person."
The Haven Project would like to thank Branin for returning to IUP to train students and share her story. She is the definition of #IUPproud.