Alexi S. Thompson
Office: McElhaney Hall, Room 213-C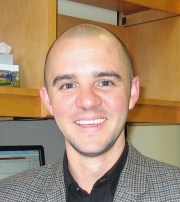 Office Phone: 724-357-2641

E-mail: Alexi.Thompson@iup.edu
Degrees/Schools:

PhD, Economics, Kansas State University

MS, Economics, Auburn University

BS, Economics, Auburn University

Areas of Expertise:

Resource Economics, International Trade, Tourism Economics, Time Series Econometrics

Biography:

Alexi Thompson is an associate professor in the Department of Economics. He has been a member of the Department of Economics since the fall 2013 semester. Thompson received his PhD degree in agricultural economics from Kansas State University. He has taught Principles of Microeconomics, Principles of Macroeconomics, International Finance, Industrial Organization, and Tourism Economics at IUP.
Thompson's research interests include open-economy macroeconomics, environmental economics, and the economics of crime. Recent research has led to publications inEconomics Bulletin, theJournal of Environmental Protection, and the B.E. Journal of Economic Policy and Analysis.
In his spare time he enjoys traveling to Colombia (where his wife is from) and Greece (where his mother is from) and playing soccer. Thompson grew up in Auburn, Alabama, and is a diehard Auburn football fan. War Eagle!