Information Assurance Club Activities, Fall 2013
Posted on 9/20/13 11:20 AM
The Information Assurance (IA) Club has started its activities at the beginning of the Fall 2013.The club meets every other Wednesday from 5:00–6:00 p.m., and has held two meetings so far.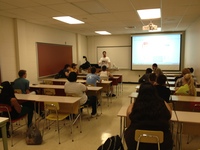 The first meeting was held on September 6 at 331 Stright Hall. The club officers have been introduced, and the student president gave a talk on cybersecurity fundamentals. The meeting was very well attended (about 20 students showed up).
The second meeting was held on September 18. The given presentation focused on physical security (padlocks, biometrics, etc.) of computers.
All students are encouraged to participate in the club activities and to contact the club officers or faculty advisor (Waleed Farag) with any questions, comments, or suggestions.