The Haven Project and the Fashion Merchandising Program are partnering together to set up the "What Were You Wearing?" exhibit. Anonymous survivor stories from the IUP community will be on display all week in the Stapleton Library.
When: Monday, April 12-Friday, April 16
Location: Stapleton Library near Java City
"What were you wearing?" is an all-too-common question asked of survivors of sexual assault. This exhibit aims to dispel the myth that survivors provoke their assault due to how they were dressed. Stop by to experience this powerful and emotional display.
Content Warning: Stories include descriptions of gender-based personal violence, which may be upsetting to some.
The "What Were You Wearing?" exhibit originated at the University of Arkansas in 2013. Created by Jen Brockman and Mary Wyandt-Hiebert, the project was inspired by Mary Simmerling's poem, "What I Was Wearing."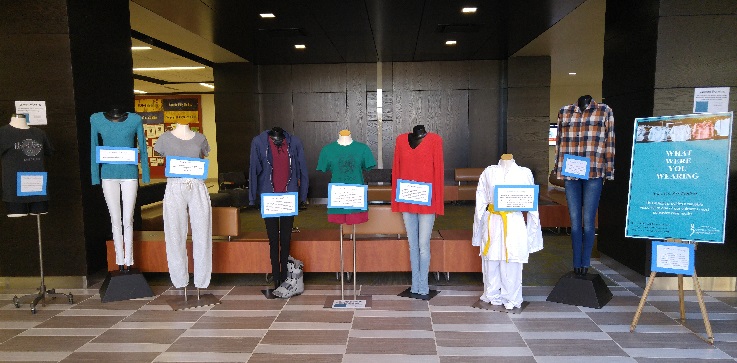 If you or someone you know has been a victim of sexual assault, there are resources available to offer support. You are not alone.
The Alice Paul House* (24/7 hotline) - 724-349-4444
The Haven Project - 724-357-3947
The Counseling Center* - 724-357-2621
University Police - 724-357-2141
The Office of Student Support and Community Standards - 724-357-1264
Title IX Coordinator - 724-357-3402
LGBTQIA Support - 724-357-2598
*confidential resources
Follow the Haven Project on social media for all the latest information on upcoming events: