STATIC Recaps 2020-21: Responding to the Impossible (and Finding Success There)
The Student Activity Committee, known by the IUP campus community as STATIC, responded to the COVID-19 pandemic and morphed an impossible situation into an extraordinary success. These hardworking undergraduate and graduate students, joined by their staff advisor, deserve nothing but recognition and appreciation from the university for a job well done.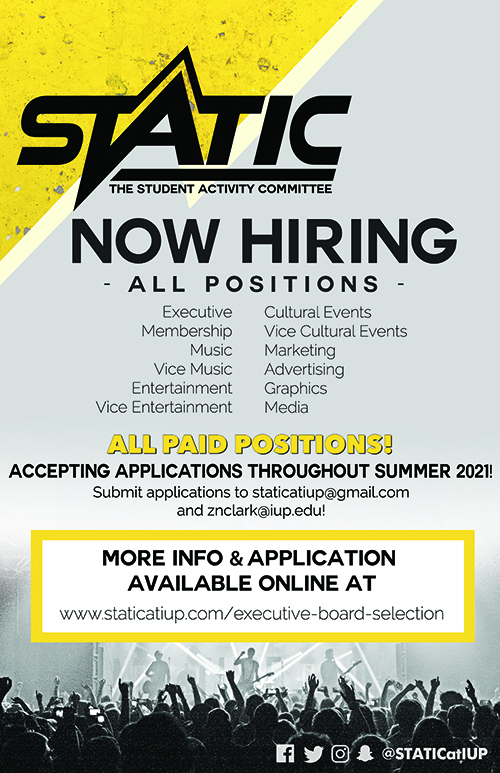 In March 2020, at the onset of the COVID-19 pandemic here in the United States, campus programming boards from across the country and globe struggled to identify how to properly serve their campuses. Traditional college programming became too risky to occur in-person, as sources such as the Centers for Disease Control and Prevention and the Georgia Institute of Technology cited live events as the easiest path for viral transmission. At that time, STATIC stepped up to such challenge and unplanned 11 in-person events during March and April 2020, and turned on a dime to plan and promote 14 new, virtual-only events, with no operating budget.
Then, during the summer planning season for the 2020-21 academic year, STATIC responded to guidance from the Pennsylvania departments of Education and Health, as well as guidance from the Centers for Disease Control and Prevention, by creating its own six-phase COVID-19 Response Action Plan for Event Planning. This document provided much-needed public health-informed, peer review-backed guidance for IUP's programming board, and helped STATIC create both its fall 2020 and spring 2021 programming calendars.
Before STATIC knew it, the 2020-21 academic year had arrived, and STATIC met the challenges, needs, and expectations of expanded programming head-on. Throughout July and August, the executive board members brainstormed every possible creative, innovative event idea, while also scouting out the best possible platforms, marketing methods, and engagement avenues in virtual spaces.
This resulted in STATIC increasing its provided programming by 140 percent compared with a normal programming year, going from 30 events per year to an astounding 72 events during this academic year.
---
By the Numbers
Fall 2020
Virtual events: 36

In-person events: 2

Total events planned: 38
Total events executed: 36
Total attendance: 3,377

Event types:

Competitions / game shows: 7
Trivia nights / other brainteaser events: 4

Movie nights / watch parties: 17
DIY kits / take and make: 3

Artist-driven events: 5
Cultural / educational events: 2
Spring 2021
Virtual events: 28

In-person events: 6
Total events planned: 34

Total events executed: 33

Total attendance: 2,643 (preliminary figures)

Event types:

Competitions / game shows: 10

Trivia nights / other brainteaser events: 3

Movie nights / watch parties: 6

DIY kits / take and make: 5

Artist-driven events: 5

Cultural / educational events: 4
Festival / interactive events: 1
Total Events for 2020-21: 72

Total Engagement for 2020-21: 6,020
---
In Summary
STATIC deserves the thanks of the IUP campus community and recognition for responding in creative, collaborative, and nimble ways to the COVID-19 global pandemic. When the call was made for greater programming to help support students and to keep members of the IUP campus community engaged, STATIC heeded it while keeping people safe.
Great job, STATIC Executive Board for 2020-21: Cassidy Krug*, executive chair; Claire Rodgers*, membership chair; Joel Eby, music chair; Kirstyn Evans, vice music chair (fall 2020 only); Sophia Weingrad, entertainment chair (until March 2021); Erin Wilhelm, entertainment chair (March 2021 to present) and vice entertainment chair (until March 2021); Jenise Lewis*, cultural events chair; Teddy Jeannette*, graphics chair; Miranda Beish, media chair; Tom Lyttle*, graduate intern for spring 2021; Ali Walker, graduate advisor; and Zach Clark, advisor.
*denotes graduating member

Special recognition also goes to Cassidy Krug and Miranda Beish, who were honored with STATIC's annual leadership awards. Miranda was honored with the J. Sam Barker Dedication to Campus Programming Award, and Cassidy was honored with the Executive Board Member of the Year Award. Additionally, Cassidy Krug, Ali Walker, and STATIC as an organization were nominated (but not selected) for institutional awards through the IUP Center for Multicultural Student Leadership and Engagement.
If you (or someone you know) wants to make a huge impact on the IUP campus community, has a passion for event planning or promotions, or needs to expand your résumé, consider applying for the STATIC Executive Board for the 2021-22 academic year. Various positions are still available, and STATIC will be accepting applications throughout summer 2021. You can find more information and apply here.
For more information, check out the STATIC website, Twitter page, or Instagram page.