Deadline Extended: STATIC Accepting Executive Board Applications Throughout Summer 2021
Posted on 4/19/21 5:18 PM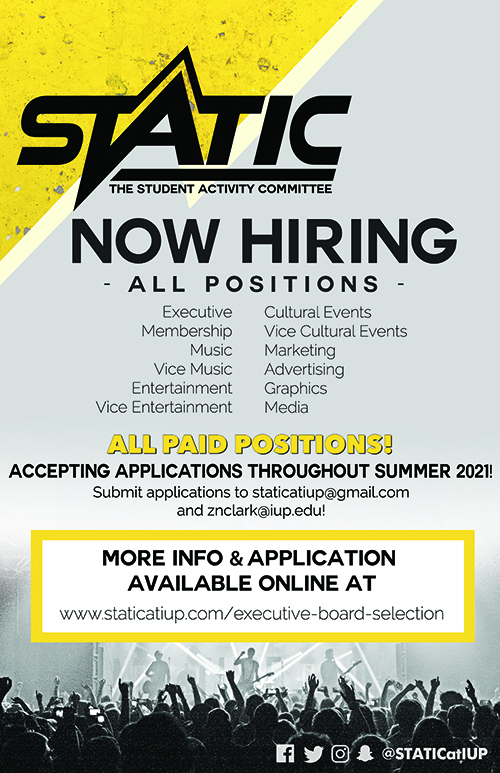 Are you interested in event planning and promotions, advertising and marketing, or hospitality management? Do you want to help pick, plan, promote, and manage the events on campus? Do you care about making IUP a better place for everyone? If you said yes to any of those questions, join STATIC—we're hiring!
STATIC is still hiring for all executive board positions, including Executive, Membership, Music and Vice Music, Entertainment and Vice Entertainment, Cultural and Vice Cultural, Marketing, Advertising/Video, Graphics, and Media chairs. These students are responsible for brainstorming, planning, promoting, managing, and evaluating all major events on campus, from start to finish. As an added bonus, these positions are paid!
Submit your completed application to STATIC's Gmail (staticatiup@gmail.com) and STATIC's advisor email (znclark@iup.edu). STATIC will consider all newly submitted applications throughout summer 2021 with no deadline.
If you are interested in applying, please visit the STATIC website to learn more and download the application. Be sure to read carefully and follow all instructions.

Contact STATIC at staticatiup@gmail.com or znclark@iup.edu with any questions, comments, or concerns. We look forward to working with you!