There's Nothing to Do Here? Wrong! STATIC Hosting Four Major Events
Posted on 3/10/21 8:41 PM
Check out these awesome STATIC events for this week (March 7-13) and next week (March 14-20). There's always something to do with STATIC!
IUP Chopped: Cooking Competition Round 2 (Virtual)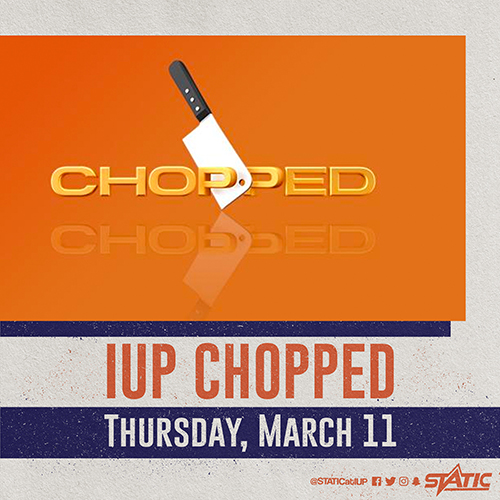 Next up in the STATIC line-up of IUP versions of game shows… IUP Chopped!
Join STATIC on Thursday, March 11, to check out some amazing culinary specialties from various local IUP "celebrities" and to compete against others with your signature dish. The event will virtually take place at 8:00 p.m. via Zoom.
No preregistration is required. Join here.
Too bad we couldn't get Gordon Ramsey.
To compete for cash prizes, register here. Those competing must complete the registration application in full and must submit a two- to five-minute video of their recipe being prepared along with the finished product by Thursday, March 11, at noon. If the online uploader does not work, please email Zach Clark at znclark@iup.edu.

Spring Trivia Night 2 (Virtual)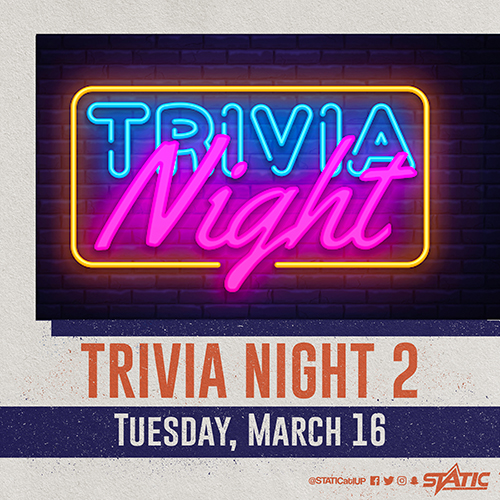 Calling all brainiacs, Einsteins, pop culturists, and Wikipedia-lovers—It's a Trivia Night at IUP!
STATIC proudly presents its second monthly Trivia Night of the spring 2021 semester. We'll provide the host and sleek trivia platform, cash prizes, and everything else you need to have a blast. All you have to bring is yourself and your teammates.
Join in on the fun on Tuesday, March 16, via Zoom, from 8:00 p.m. to 9:30 p.m. Register here with your captain's name, IUP email, Banner ID, cell phone, team name, and teammate names.
Trivia theme is: Friends!

Important: Please arrive 15 minutes early. Once all spots are filled, no other spots will open.

A Virtual Cooking Class with Antoni Porowski from Netflix's Queer Eye (Virtual)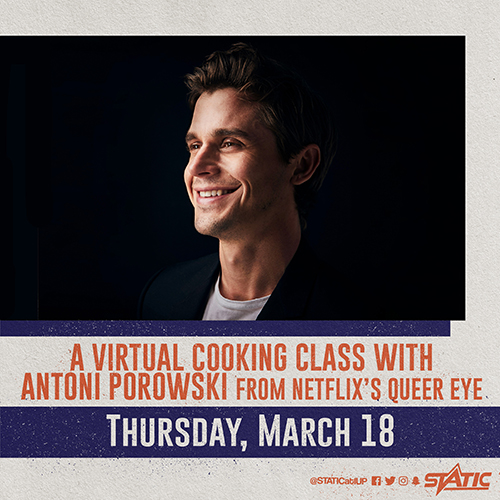 Join STATIC as we present actor, chef, and star of Netflix's Queer Eye, Antoni Porowski, for a virtual cooking class and moderated discussion, live via Zoom, on Thursday, March 18. The Zoom waiting room will open at 7:45 p.m. with the event beginning promptly at 8:00 p.m.
This event is completely free and open to the entire IUP community. No preregistration is required. Join here.
If you would like to submit a question for Antoni to answer live during the event, please email STATICatIUP@gmail.com or send us a direct message on Facebook, Twitter, or Instagram.
According to his official bio, "Antoni Porowski is a New York Times bestselling author and star of Netflix's hit series Queer Eye. As the show's food and wine expert, the self-taught cook brings with him a lifelong passion for food first cultivated through television, where he was captivated by culinary giants like Julia Child, Jacques Pépin, and Anthony Bourdain, and later honed in restaurants from Montreal to New York and under mentor Ted Allen, original Fab Five food and wine expert. Antoni's first cookbook, Antoni in the Kitchen, was released in fall 2019, debuting at #2 on the New York Times' Best Seller List. Antoni can currently be seen in Netflix's Emmy Award-winning series Queer Eye, which has won "Outstanding Structured Reality Program" for three consecutive years. In 2020, Antoni and his fellow Fab Five received their first Emmy nominations for "Outstanding Hosts for a Reality or Competition Program." Coming up, Antoni is developing a feature film for Netflix with Black-ish creator Kenya Barris loosely based on Antoni's real-life dating experiences as a sexually fluid man, titled Girls and Boys. Antoni has graced the covers of Gay Times, Out Magazine, Fashion Magazine, and Entertainment Weekly, where he and his castmates were listed among 2018's Entertainers of the Year. A finalist for People's Choice Reality TV Star of 2019 and 2020 and winner of Eater's 2018 #Brand of the Year and People's 2019 Readers' Choice Sexiest Reality Star, Antoni continues to connect with audiences the world over. Born in Canada to Polish emigrants, Antoni is an outspoken advocate for LGBTQ+ rights everywhere, especially his family's native Poland."
Campus Scavenger Hunt - Day 2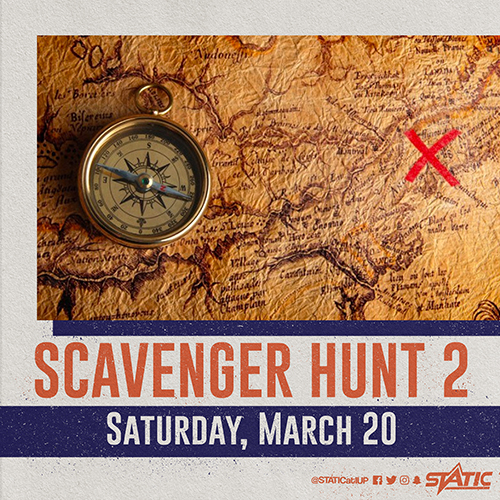 STATIC is hiding goodies all over campus on four different Saturdays during the spring 2021 semester, and it's YOUR job to hunt them down!
Beginning at 2:00 p.m. on Saturday, March 20, and continuing to 8:00 p.m. STATIC will release various clues on a different one of its social media accounts (Facebook, Twitter, Instagram, and TikTok), leading you to different locations on campus to track down some awesome prizes.
Possible prizes include: IUP gear, STATIC gear, Co-op Store gift cards, local Indiana restaurant gift cards, UberEats gift cards, vouchers for future STATIC event tickets, and... something else pretty big!
To play, follow STATIC on all of our social media accounts, and be the first one to track down the clues. Then, take a picture or a selfie and send it to STATIC or tag STATIC on a post noting that you found the prize.
Please adhere to all COVID-related precautions required at STATIC events, including mandatory mask usage, careful hand washing and hygiene, and minimum six-ft social distancing from others.
For more information, visit the STATIC website or STATIC on Twitter and Instagram.