No Extra Brain Power Required: Hippo Campus, Live at IUP Tonight
Posted on 3/31/21 4:16 PM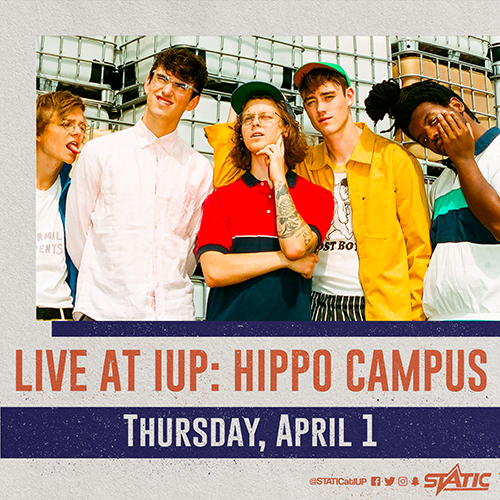 STATIC presents Hippo Campus live in a virtual concert for IUP on Thursday, April 1, via Zoom. The waiting room will open at 7:45 p.m., and the show will begin at 8:00 p.m. No extra brain power required.

This event is completely free and only open to the IUP community. No preregistration is required. Join here!
If you would like to submit a question for Hippo Campus to answer live during the event, please email STATICatIUP@gmail.com or send us a direct message on Facebook, Twitter, or Instagram.

According to the artist bio:
When Hippo Campus formed in 2013, their intentions were pure and simple. "We were in high school and the main idea was, 'Let's start a band and make our friends dance,'" Sutton recalls. "There was no real context to what we were doing—it was just total creative joy."

But over the past five years, that context has shifted dramatically. The world around them warped into something bleak and unsteady, and reckoning with mental health issues became more and more crucial. On their sophomore album Bambi, the St. Paul, Minnesota-bred band navigate that upheaval with deliberate self-reflection. The result is a selection of songs that drift into much darker terrain, but unfold with a frenetic yet fragile beauty that makes even the most painful moments feel glorious.

Not only driven by exacting introspection, Bambi was also shaped by cultural shifts, including the #MeToo Movement. "That really made us take a look at how toxic masculinity has influenced the way we see ourselves and the world overall," says Luppen. "In the past we might have been apprehensive about being super-vulnerable, but now we're more aware of how important it is to come forward about dealing with depression or anxiety. Because if more men are able to do that, they might be less likely to express those feelings as anger or violence."

Hippo Campus approached the making of Bambi with an eye toward the undoing of any distorted, social-media-fueled perceptions of the band. "Social media promotes this weird non-reality when it comes to artists and bands, where they get put up on a pedestal and treated like some kind of upgraded human," says Stocker. "We'd much rather make community happen with our fans, which is the whole reason we started this in the first place."

Partly recorded at Steve Albini's Electrical Audio in Chicago, Bambi finds Hippo Campus working again with producer BJ Burton (Bon Iver, Low, Francis and the Lights), who handled production on their 2017 full-length debut Landmark. And in sculpting Bambi's distinctly inventive arrangements, Hippo Campus significantly expanded their use of drum machines and synth.

For more information, check out the STATIC website, Twitter page, or Instagram page.