Friday Night is Kinks & Curls: A Celebration of Natural Hair and Skin
Posted on 2/25/21 8:25 PM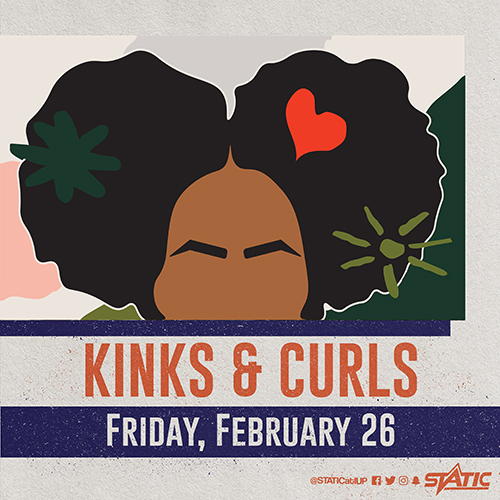 Join STATIC for a celebration of natural hair and skin, as well as body positivity, as we present the first ever Kinks & Curls: A Celebration of Natural Hair and Skin on Friday, February 26, as part of IUP's Black History Month programming. The event will take place on STATIC's Instagram page and will feature DIY hair and skin care kits.
Come enjoy:
hair and body care kits, designed for all different types of hair and skin

information about local and national vendors, specializing in ethnic hair and body care

recorded and live tutorials on Instagram

a raffle of three different prize packs of lots of awesome goodies

and more!
As of right now, all 50 kits have been reserved, but if you'd like to enter your name on the waiting list, please fill out the registration form here. By registering online you'll also register automatically for our raffle during the event.

DIY kits include various hair and skin care items, including ORS Olive Oil Shampoo with Aloe Vera, ORS Olive Oil Conditioner with Sweet Orange Oil, Crème of Nature Argan Oil Deep Conditioner, Garnier Fructis Leave-in Conditioner, ECOCO Olive Oil Styling Gel, Tropic Isle Living Jamaican Black Castor Oil, a peachwood sustainable wide-tooth comb, a peachwood sustainable pick, two shower caps, and a water bottle, as well as information and coupons for other products.
STATIC is teaming up with two local Indiana businesses (with deep IUP connections), specializing in providing care for all hairstyles and hair and body types: Hair 4 Everyone and Grizzled Teddy.
Registrants are also automatically entered into a raffle for three great prize packs: STATIC is providing a prize pack of full-sized products from the DIY kits, as well as bonnets from That African Girl, an IUP-alumni-owned business in Philadelphia. Grizzled Teddy is graciously providing a beard care kit for the second prize pack. That African Girl is graciously providing a third prize pack featuring their handmade, African-inspired bonnets and dolls. Each kit and prize pack also includes a coupon for use at Hair 4 Everyone.

For more information, visit the STATIC website and STATIC Twitter and Instagram pages.