Wellbeats Virtual Fitness Kiosk Opens in HUB
Posted on 1/20/21 4:43 PM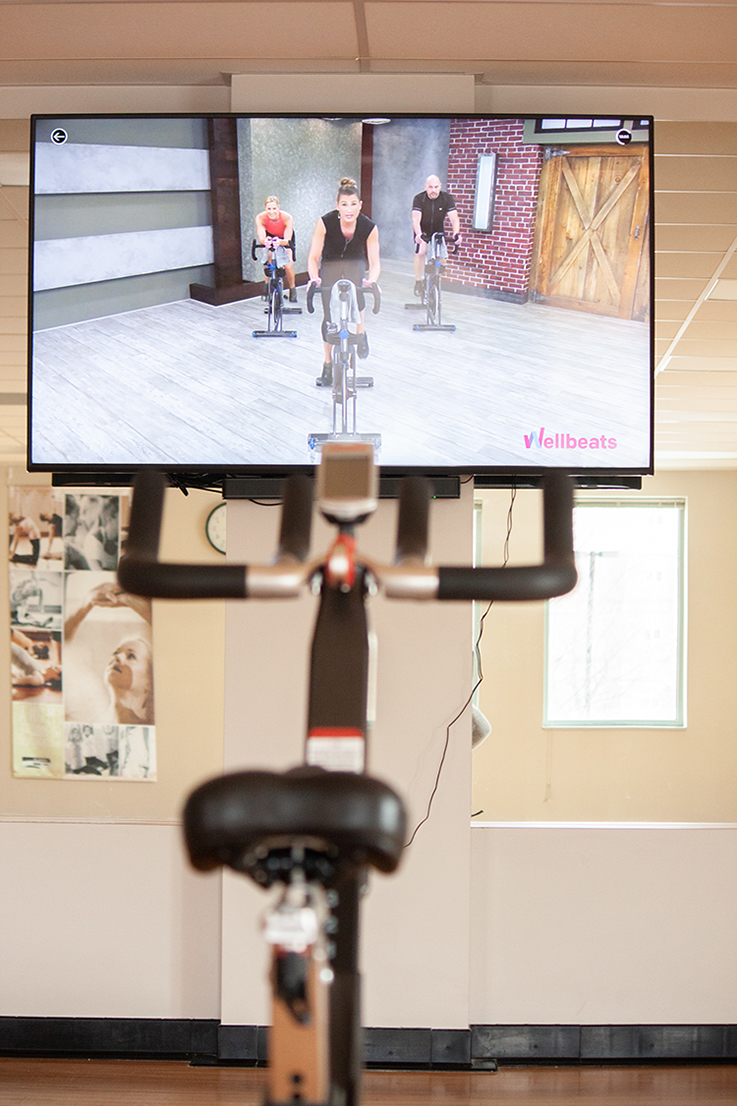 Wellbeats has officially arrived, in person, on the IUP campus! Well, kind of.
On January 14, IUP Campus Recreation Services completed installation of a Wellbeats virtual fitness kiosk that allows students to take in-person Wellbeats classes in the Hadley Union Building (HUB).
In-person, yet virtual? How can that be? Hear us out.
Wellbeats is an on-demand fitness platform with more than 500 workouts, nutrition, and mindfulness classes. Last semester, the Student Cooperative Association and IUP Campus Rec partnered with Wellbeats to provide all IUP students free remote access to the virtual platform from any personal device.
This semester, IUP Campus Rec took it a step further. The new kiosk provides all IUP students a designated on-campus space to take free Wellbeats virtual classes; and to do so in person, but without a live instructor.
The classes are part of IUP Group Fitness' semester lineup. Every Monday through Friday this semester, IUP Group Fitness will offer, at minimum, one daily, pre-determined Wellbeats class.
The classes will be held in IUP Group Fitness Studio C, located on the second floor of the HUB, above the HUB Fitness Center. Due to safety precautions in place, the maximum capacity will be limited to 10 participants. Access to the class will be granted on a first-come, first-served basis.
Students will also have an opportunity to personally reserve Studio C at no charge and take Wellbeats classes of their choosing—at a time of their choosing—with up to nine other participants. Reservations can be submitted through 25Live Pro.
To use this service, students simply need to create a Wellbeats account. All students have received an opt-in confirmation email with an invitation code, which will allow them to register at no cost. To use the kiosk, students will be prompted to log in with their Wellbeats credentials.
Please refer any questions or concerns to Brandyn Ott (b.p.ott@iup.edu) and/or Mike Carnovale (mcarn@iup.edu). This service is funded by the Student Activity Fee.