This Week With STATIC: November 8-14 (Plus Register for Next Week's Events)
Posted on 11/9/20 7:55 PM
Check out these awesome STATIC events for the week of November 8 through 14 (plus information about how to register for Trivia Night 3 on Tuesday, November 17, and IUP Spelling Bee on Wednesday, November 18).
Netflix Watch Party: Taylor Tomlinson's Quarter Life Crisis (Virtual)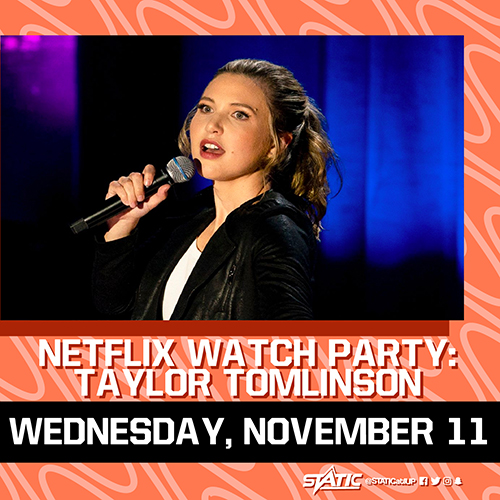 On Wednesday, November 11, join STATIC for a Netflix Watch Party featuring Taylor Tomlinson in her 2020 smash comedy special, Quarter Life Crisis. Event begins at 8:00 p.m.
In Quarter Life Crisis, "she's halfway through her 20s, and she's over it. Too old to party, too young to settle down, comedian Taylor Tomlinson takes aim at her life choices."
Watch via Google Chrome's Netflix Watch Party extension. Must have a Netflix account, but you can sign up for a free 30-day trial.
STATIC will ask some funny Taylor Tomlinson trivia, with the winner taking home some amazing prizes.
IUP Living Room Concert with AJR! (Virtual)
STATIC presents AJR in an intimate living room concert on Thursday, November 12, via Zoom. The waiting room will open at 7:30 p.m. and the show will begin at 8:00 p.m.
This event is completely free and only open to the IUP community. No preregistration is required. Join here.

Opening for AJR is IUP's own the Placeholders. They won first place at IUP Conquer the Mic on Friday, November 6, guaranteeing them an opening spot at the AJR concert.
If you would like to submit a question for AJR to answer live during the event, please email STATICatIUP@gmail.com or send us a direct message on Facebook, Twitter, or Instagram.
According to the artist bio: "AJR feature the talents of the Met brothers, Adam (vocals/bass), Jack (vocals/guitar), and Ryan (guitar/piano/vocals), who grew up in New York and got their start busking around the city, covering songs by such bands as Fun, Vampire Weekend, and the Beach Boys. A link to one of the group's videos caught the ear of Australian pop singer Sia Furler, whose manager put the band in contact with former Columbia president Steve Greenberg. Greenberg then signed on as AJR's manager, and in 2013 the trio released their debut independent single, 'I'm Ready.' Well-received, the track peaked at number 27 on the Billboard Mainstream Top 40 chart, and appeared on an initial EP as well as the band's 2015 full-length debut album, Living Room. The single 'Weak' followed in 2016, reaching number eight on the US Billboard Dance Club chart and achieving platinum status. It was included on AJR's sophomore full-length, 2017's The Click, which also featured the single 'Drama' and the track 'Sober Up' with Weezer's Rivers Cuomo. Following an expanded deluxe edition of The Click in 2018, the brothers returned in early 2019 with the bouncy '100 Bad Days' single. Another single, titled 'Birthday Party,' followed in March 2019. Both tracks were included on their third LP, Neotheater, which reached number eight on the Billboard 200. AJR spent much of the year touring and eventually returned in 2020 with the bombastic pop single 'Bang!'"
Trivia Night 3 (Virtual)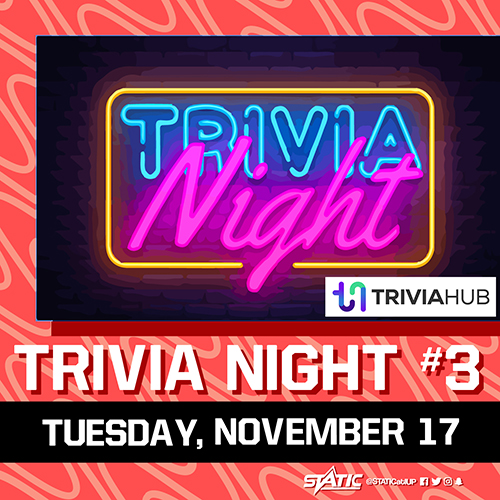 Calling all brainiacs, Einsteins, pop culturists, and Wikipedia-lovers—It's a Trivia Night at IUP!
STATIC proudly presents its third monthly Trivia Night of the fall 2020 semester. We'll provide the professional host and sleek trivia platform (by TriviaHub Live), cash prizes, and everything else you need to have a blast. All you have to bring is yourself and your teammates.
Join in on the fun on Tuesday, November 17, via Zoom, from 8:00 p.m. to 9:30 p.m. Register here.
Space is limited to 75 people max.
Important: Please arrive 15 minutes early. Once all 75 spots are filled, no other spots will open.
IUP Spelling Bee (Virtual)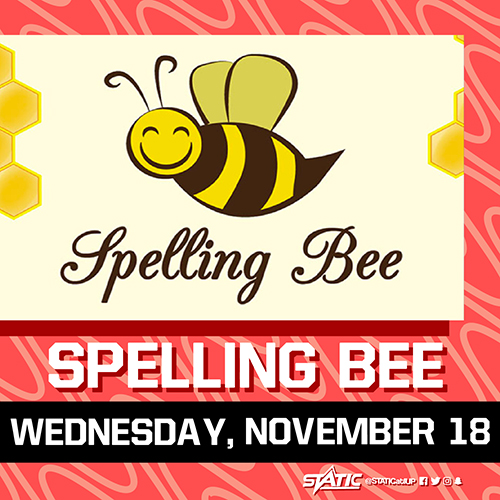 Next up in the STATIC line-up of IUP versions of game shows… Spelling Bee!
Join STATIC as we host our IUP virtual version of the hit game show Spelling Bee on Wednesday, November 18, at 8:00 p.m. via Zoom. Try to spell some of the hardest words in the English language with various themed rounds.
To join the event as a spectator, launch this Zoom link.
For more information, visit the STATIC website or STATIC on Twitter and Instagram.